Apple takes 57% of handset profits, Samsung accounts for remaining 43%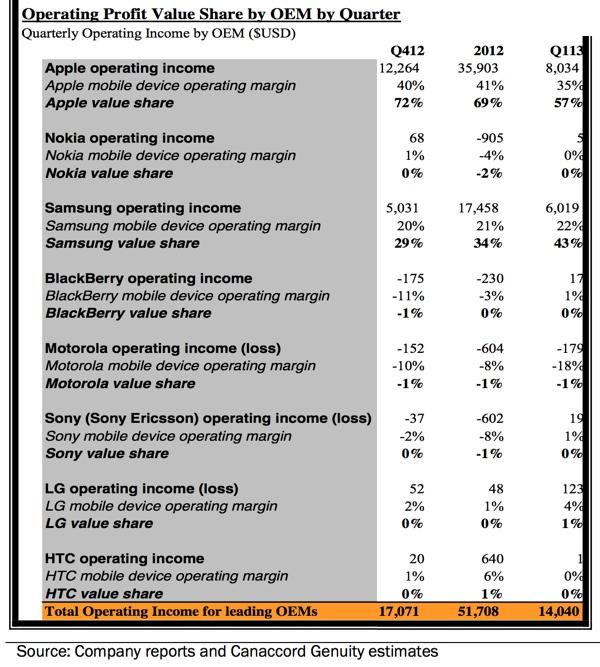 Apple and Samsung have once again accounted for all of the profits in the smartphone business, with the iPhone taking 57 percent of the market's value.
The latest "value share" data from Canaccord Genuity, provided to AppleInsider on Monday, measures how profitable companies are in the handset space. Together, Samsung and Apple are estimated to have accounted for 100 percent of industry profits in the March quarter.
That number is actually down from the previous quarter, when the two rivals took 103 percent of handset profits. That was made possible because of losses incurred by Motorola, Sony and Nokia — companies that actually lost money in the December quarter.
"While Apple and Samsung continue to dominate the share of industry profits, improving cost structures and results from other OEMs have reduced Apple and Samsung's combined share to 100% from levels above 100% in the past several quarters," analyst T. Michael Walkley wrote in a note to investors on Monday.
Apple's estimated 57 percent of handset industry profits was down from 72 percent in the December quarter, as Apple saw its operating margins fall from 40 percent to 35 percent. Those shifts were attributed to softer iPhone 5 sales and stronger demand for the legacy iPhone 4 and iPhone 4S models.
Samsung, meanwhile, saw its "value share" grow from 29 percent of the industry's profits to an estimated 43 percent in the March quarter. Samsung's margins also increased slightly, from 20 percent to 22 percent.
Among the major vendors tracked by Canaccord, the only company to carve out a positive value share was LG, which took 1 percent. But LG's success was offset by a negative 1 percent loss seen by Motorola.
The remaining companies in the list essentially broke even in the March quarter, earning them a 0 percent value share: Nokia, BlackBerry, Sony Ericsson, and HTC.
Apple and Samsung are also the only handset companies tracked by Canaccord with any operating margins to speak of. The remaining companies all operate on razor-thin margins, while Motorola is estimated to have actually seen negative 18 percent margins in the March quarter.