US officials call on Apple, Google, others to help stop smartphone theft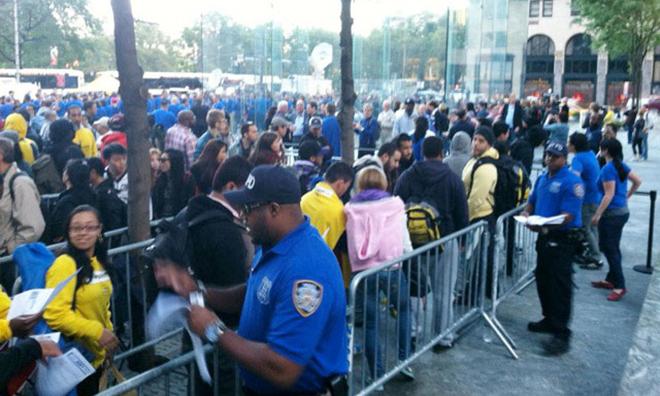 Smartphone thefts are on the rise, and now a number of government officials from both New York and San Francisco are calling for a meeting with Apple, Google, and other mobile leaders to try to get them to do something about it.
NYPD sign up customers at Apple's Fifth Ave store in September. Photo via Gothamist.
On Wednesday, San Francisco District Attorney George Gascón and New York Attorney General Eric Schneiderman announced that they will convene a Smartphone Summit next week wherein they will attempt to convince the largest players in the smartphone industry that they need to do something to head off violent crimes involving mobile devices. The meeting will take place on June 13 at Schneiderman's office in New York City.
"With 1.6 million Americans falling victim to smartphone theft in 2012, this has become a national epidemic," said Gascon. "Unlike other types of crimes, smartphone theft can be eradicated with a simple technological solution.
The two state attorneys will ask Apple, Google, Microsoft, and Samsung to begin designing their phones and operating systems so that they contain a "kill switch," the ability to remotely render a phone inoperable. Such an addition, the attorneys hold, would make smartphone theft a moot point, since any device would become useless once reported stolen.
Gascón has previously met with representatives from Apple in order to convince the iPhone maker to add more anti-theft measures to its bestselling smartphone. Apple devices can be tracked using the Find My iPhone feature, and similar features exist for Windows and Android handsets. Still, thefts of iPhone products alone caused an overall increase in the crime rate in New York City in 2012.
Between January 1 and September 23 of last year, thefts of Apple products in New York City were up 40 percent. Apple product theft accounted for 14 percent of major crime in New York City.
In San Francisco last year, roughly half of all robberies involved a mobile communication device.
Currently, carriers like AT&T block stolen iPhones from accessing their networks, but critics say this is an incomplete solution. Thieves, they say, can simply hack the International Mobile Station Equipment Identity of a phone in order to erase it and render it unidentifiable to any stolen phone tracking databases.
All four companies have agreed to attend the summit next week. Schneiderman hopes the meeting will lead to real advances in protecting smartphone owners.
"The theft of handheld devices is the fastest-growing street crime, and increasingly, incidents are turning violent," said Schneiderman. "It's time for manufacturers to be as innovative in solving this problem as they have been in designing devices that have reshaped how we live."