Apple's WWDC app gets updated with video enhancements, bug fixes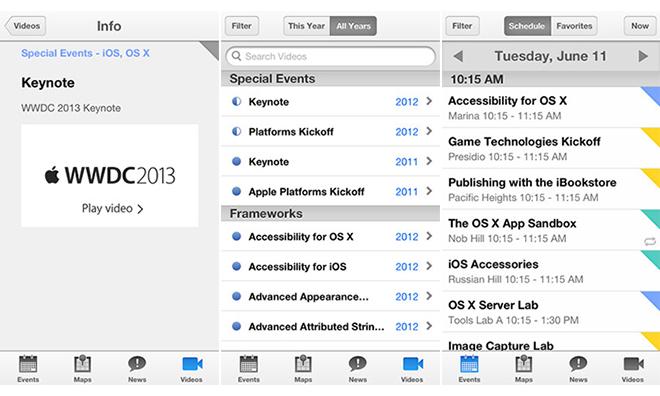 Apple on Friday released an update to its WWDC 2013 iOS app, bringing a number feature enhancements and bug fixes to the title ahead of the conference scheduled to kick off on Monday.
Along with the "numerous" bug fixes, WWDC for iOS version 1.0.1 brings a feature which allows videos streaming over AirPlay to continue to play after suffering an interruption, such as a device lock or phone call.
In addition, favorited Events are now extended to 11 p.m., and a fix was put in for a bug that would cause video audio to be muted when switching the ringer switch to silent.
Favorites in Events go all the way to 11 PM
Duplicate section headers in the videos list no longer appear
The navigation bar in Events no longer disappears
Blurry text in session details has been corrected
Version information has been added to augment future bug reports or feedback
The update to Apple's WWDC companion app comes just days three days before the conference is scheduled to kick off. Those who haven't yet downloaded the free title can do so for free from the iOS App Store.
WWDC 2013 is slated to run from June 10 through 14 at Moscone West in San Francisco, where Apple will preview its next-generation iOS 7 and OS X 10.9 operating systems. Also rumored to be unveiled at the event are refreshes to the MacBook lineup including a slimmer 13-inch Retina MacBook Pro and dual-mic MacBook Air.