First images of 'Stanford 2' Apple Store renovation surface, hint at new design language [u]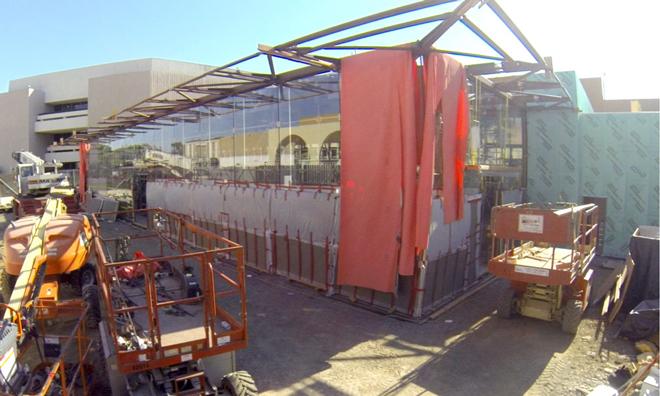 As construction continues at Apple's Stanford 2 retail location, new pictures reveal the store will boast a "glass box and floating roof" design, the first of three Apple Stores to receive the refreshed design aesthetic.
Update: A previous version of this article incorrectly credited Foster + Partners, and not Bohlin Cywinski Jackson, as its designer.
The photos, obtained by ifoAppleStore, were taken from within the construction site of the Northern California Apple Store, which is nearing the end of a substantial overhaul. Previously, only a rendering of the location had been available for public viewing.
According to the publication, the Stanford 2 Apple Store will be the first of three to sport a "glass box and floating roof" design that affords window shoppers a 180-degree view of the store's interior. The other two outlets slated to take on the new architectural language are located in downtown Portland and France.
Apple Stores are known for their unique and open designs, with all-glass storefronts and trademarked interior layout. The Stanford 2 outlet, designed by Bohlin Cywinski Jackson, takes the idea further with steel beams and glass that wraps around toward the rear of the store.
The company's flagship San Francisco store, dreamed up by Foster+Partners, was recently in the news as Apple plans to move from a location on Stockton and Ellis, to a large space in Union Square. There was a minor controversy surrounding the supposed removal of a 40-year-old fountain sculpture, though further investigation showed the art piece will in fact go untouched.