Apple throws out the rulebook for its unique next-gen Mac Pro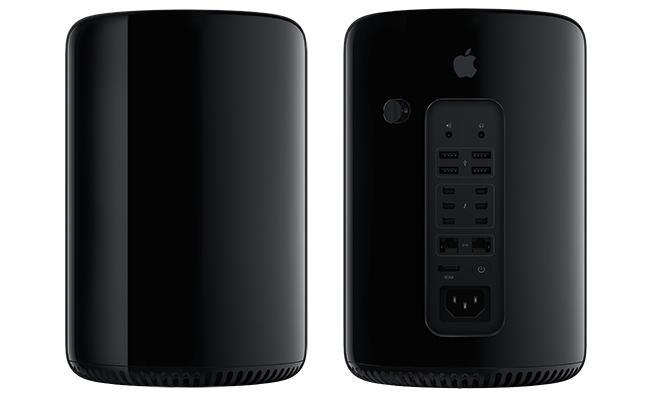 AppleInsider is supported by its audience and may earn commission as an Amazon Associate and affiliate partner on qualifying purchases. These affiliate partnerships do not influence our editorial content.
Apple on Monday offered an uncharacteristic sneak peek of its forthcoming Mac Pro, which after years of being largely ignored has received a radical new design crammed with state-of-the-art hardware technology.
The most striking feature of the new Mac Pro is the cylindrical chassis wrapped in a black aluminum shell. Adding to the unique design is the size of the unit, which measures only 9.9-inches tall with a diameter of 6.6-inches.The new Mac Pro is one-eighth the volume of the outgoing tower style model.
Past the aesthetics lies a completely reimagined interior. All major components and boards in the Mac Pro are mounted to a triangular heat sink, which Apple is calling the "unified thermal core." According to the company, the use of the extruded aluminum structure was key in achieving such a compact design.
Heat is conducted away from the CPUs and GPUs and dispersed evenly across the surface of the thermal core. This allows for a single fan, situated at the top of the unit, to suck air up through an intake at the bottom of the computer, with exhaust flowing out vertically above the cylinder.
As for silicon, Apple chose to stick with Intel's Xeon family of processors, though the next-generation Mac Pro will get next-generation E5 chipsets. Configurations will reportedly be capped at 12 cores, providing enough horsepower to double the floating-point performance of existing models. Along with the new Xeon boards comes support for PCI Express gen 3, which boasts bandwidth up to 40GBps, with 1.25GBps reads and 1.0GBps writes depending on the component loadout.
In opting for a faster PCIe flash storage solution, which is clocked at 1250MB/s compared to SATA flash's 500MB/s and SATA HDD's 110MB/s, Apple has done away with the drive bays that made swapping HDDs so easy. The company may be hoping Thunderbolt 2-enabled external drives will pick up the slack, but some may be disappointed to see this useful feature go.
On the memory side, Apple is using four-channel ECC DDR3 modules running at 1866 MHz, which affords bandwidth up to 60GB/s. This also doubles the current Mac Pro's capabilities.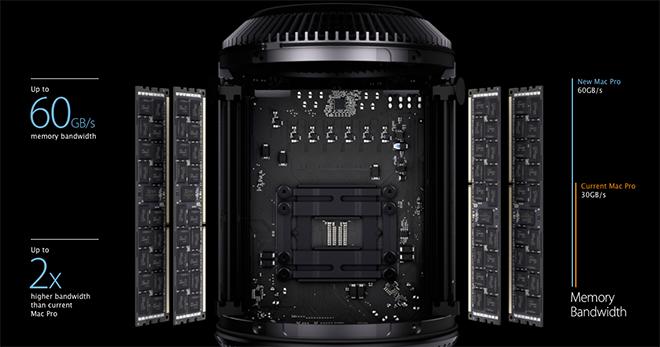 Graphics are handled by standard dual workstation-class AMD FirePro GPUs with up to 6GB of dedicated VRAM, which puts up to 70 teraflops of computing power on tap. Current Mac Pros perform at 2.7 teraflops.
Expansion has also been greatly enhanced, with a whopping six Thunderbolt 2 ports, four USB 3.0 ports, two Gigabit Ethernet ports, HDMI 1.4 and audio in/out. Thunderbolt 2 is the main draw here, with the protocol able to support 20Gbps throughput, up to six daisy-chained peripherals per port and backward compatibility with current Thunderbolt hardware. Intel, which developed the I/O standard, recently revealed the official specs of Thunderbolt 2 last week.
While the hardware specs are for the prototype Mac Pro, the production model is expected to be similar if not identical when it sees release this fall.
In previewing the professional-level computer, a rarity for Apple, it is assumed the company wanted to assuage concerns from some pro users who felt neglected after the company built multiple iMac and Mac mini refreshes without offering any major boost to the Mac Pro.