Apple's new MacBook Airs now shipping at lowest prices anywhere with coupons

Apple's new family of MacBook Airs introduced Monday are already arriving by the truckload at some of the company's largest authorized resellers, and AppleInsider has again teamed with a duo to offer the lowest prices anywhere on standalone models and those bundled with 3-years of AppleCare.
The new ultra-portable notebooks now feature all day battery life, fourth generation Intel Core processors with faster graphics, 802.11ac Wi-Fi and flash storage that is up to 45 percent faster than the previous generation. Apple also knocked $100 off the suggested retail price for the 13-inch models, which now start at just $1,009.00.
New MacBook Airs
However, any AppleInsider readers who click through the MacMall links in this article or our Price Guides and then enter Promo Code APPLEINSIDER01 on the product page will save an additional 3% off the retailer's already discounted prices, yielding the lowest prices anywhere on MacBook Pros, MacBook Airs and iMacs.
MacMall is indicating that it has stock of the standard 13-inch configurations, which will begin shipping out today, while the 11-inch and BTO configs will begin shipping throughout the week. The 3% discount is available only when ordering online and online orders are processed in the order they are received. It's also worth noting that unlike stores like Apple, Wal-Mart, and Target, MacMall only collects sales tax in CA, IL, NY, TN, MN, GA, NC, WI.
New MacBook Airs with AppleCare
Meanwhile, readers who are looking to bundle their new MacBook Air with 3-years of AppleCare Extended Warranty Protection can use the links in our guides for exclusive pricing on MacBook Air+AppleCare bundles from B&H, as can be seen in the segment of our Mac+AppleCare Price Guide below. The Manhattan-based super store is also clearing out some 2012 MacBook Airs at exclusive pricing for AI readers.
Upgrade for less
If you do not see your desired configuration, check back a soon as more configurations are expected to propagate into the guides over the next 48 hours. Also, if you are upgrading from a previous MacBook, don't forget to lock in a price quote now from Gazelle or one of the other buy-back services listed in the price guides that will pay you cash for your used Apple gear. (They then clean up your used Apple gear and resell it in emerging markets).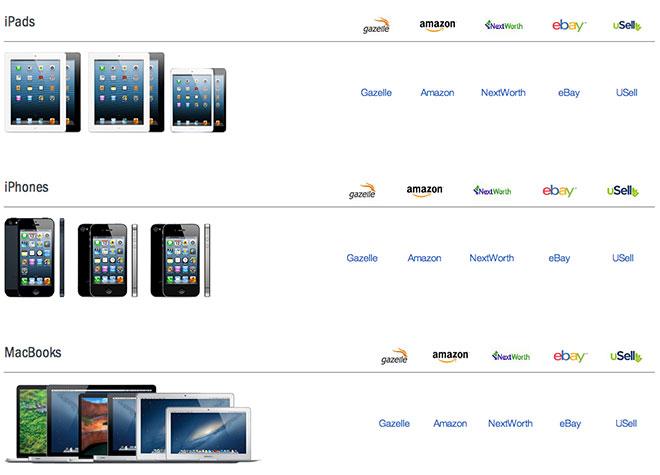 If, for instance, you have a 2012 MacBook Air that you've kept in good condition, your net cost of upgrading to a 2013 model could be as little as a few hundred dollars once you trade in a well-preserved existing model.