Safari 7.0 streamlined and accelerated for OS X Mavericks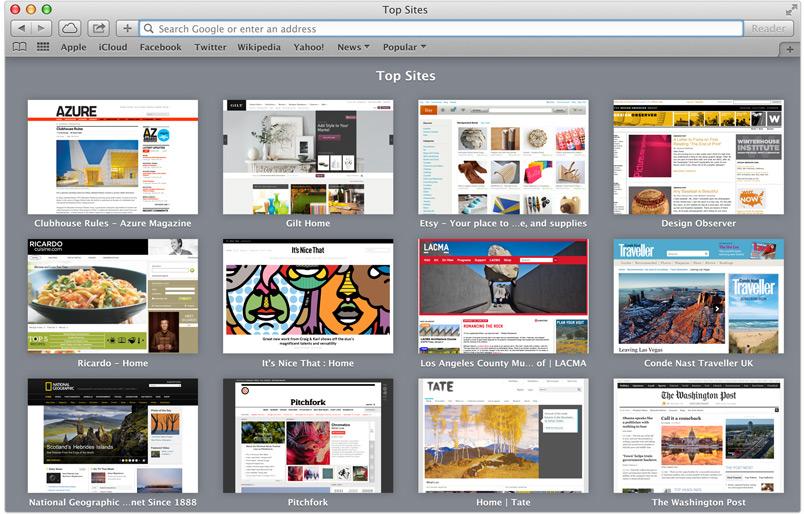 AppleInsider is supported by its audience and may earn commission as an Amazon Associate and affiliate partner on qualifying purchases. These affiliate partnerships do not influence our editorial content.
Apple's new Safari 7.0 is faster, more efficient and sports streamlined new interface enhancements in OS X Mavericks.
In keeping with Apple's new direction for iOS 7 and OS X, the enhanced web browser strips Safari of some superfluous adornments. One example is Top Sites, which now presents simple thumbnails of previously visited as squares (above), rather than wide, curved images with a faux floor reflection.
Users now have a preference of displaying up to two dozen images on the Top Sites page, and pinning or rearranging the squares no longer requires hitting an Edit button; simply mousing over an image displays its editing controls.
Goodbye, Coverflow
Another rarely useful visualization is also gone in Safari 7.0 (but not from OS X Mavericks' new Finder): a Coverflow display of cached websites in History or Bookmarks, including the Favorites Bar that appears above tabs (currently referred to as the "Bookmarks Bar").
Instead, History simply shows a simple, hierarchical list of your browsing history. Bookmarks is also greatly simplified, now depicting three types of links; the first is your standard Bookmarks (with a preview rather than a duplicate set of listings and Coverflow imagery, above).
Reading List magazine
The second set is your cross-device, iCloud synced Reading List. To catch up on your saved articles (which you can add to the list via the Share button) simply click on on a page to view it either on the standard page, or via Reader in a simplified, no distraction environment.
When you scroll to the bottom of a Reading List article, the next item in your list follows it, allowing you a magazine like experience even more similar to Instapaper.
The third is a new feature: Shared Links. This combs through the URLs of social networks you've configured your Mac to follow (currently supporting Twitter and LinkedIn) to present a social bookmark list (below).
Like your own personal Reading List, you can quickly scan through the webpages shared by users you follow, optionally using Reader, with each article flowing into the next.
At the top of each page is a banner that shows who shared it, what they commented about it, along with a button you can use to retweet it to your followers (above).
Faster and more efficient
Safari 7.0 also benefits from a year of WebKit development, including a new "Nitro Tiered JIT" (Nitro is Apple's JavaScript engine, and the tiered Just In Time compiler is a mechanism to efficiently decide how best to execute code when loading web pages, using one of its optimized alternative processes).
When you perform a search in Safari 7.0 via the Smart Search bar, it immediately begins loading the suggested top hit in the background before you even chose it, resulting in a snappy, responsive feel. You can turn this preloading off, and even turn off the instant search engine suggestions as you type a search query.
Safari also waits to load Internet plugins (ahem, "Adobe Flash animations") until you click, similar to the functionality of Click To Flash.
This saves battery life so the browser isn't constantly loading and rendering lots of inefficient animations, ads and other content unless you opt to actually see this stuff. As a side note, this will be brutal to advertisers who haven't yet migrated from Flash to HTML5.
Safari also benefits from other battery saving initiatives in OS X Mavericks designed to idle the processing of content that isn't visible (or playing desired content such as background music).

As a result of these various optimizations, Safari is not just significantly faster than Chrome and Firefox in both general SunSpider and task-oriented JSBench tests, but also delivers a noticeable edge in CPU energy efficiency (and therefore battery life) and uses much less memory at the same time.
Safari 7 also plugs into other enhancements of OS X Mavericks, including iCloud Keychains for secure storage of not just passwords, but also credit card information (iCloud Keychain sync uses multiple factor authentication), and also now supports web site push notifications, so you can be updated on events you select (such as online auctions, or web-based messaging systems).