iPad crashes Windows 8 launch party as Asus cuts its PC, tablet forecasts by 10%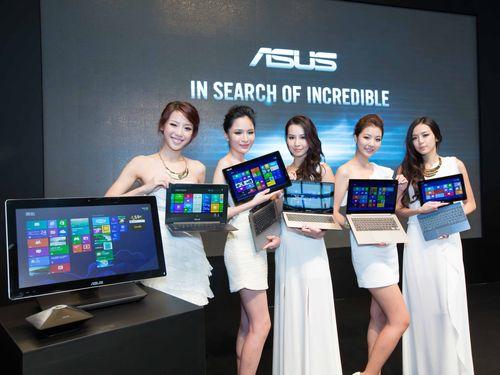 More bad new for Microsoft's Windows 8: Asus, one of the few PC makers to experience any growth last year, is now lowering its forecasts for June quarter PC and tablet sales in the face of slack demand for computers with the appearance of Windows Phone.
Gartner and IDC both rank Taiwan's Asus as the fifth largest PC maker globally (because neither group counts iPad sales). However, Asus' growth streak from last year ground to a halt with the rest of the industry in the first quarter of 2013.
After warning investors in early May that it expected to ship fewer notebooks and tablets in the June quarter (citing plans for 4.8 million notebooks and 2.8 million tablets), the company has now revised its estimates again, cutting its shipment expectations for both categories by 10 percent over the previous quarter. A report by Focus Taiwan says Asus now plans to sell 4.23 million notebooks and 2.7 million tablets.
Asus climbed into the spotlight in 2007 when it released the Eee PC netbook line. In 2010, it spun off Pegatron (an OEM formerly used by Apple to build MacBooks, and rumored to building a new line of low cost iPhones) just as the iPad began selling in quantities that began destroying demand for netbooks.
Asus chairman Jonney Shih, who apparently styles himself as a sort of Steve Jobs, initially launched a hybrid "Padfone" in an oddly dramatic unveiling in 2011. When sales didn't exactly catch on, the company, along with the rest of the PC market, turned to Microsoft's Windows 8 to boost sales of PCs and tablets.
In addition to Windows 8 PCs, which have failed to take the market by storm, Asus also makes the Nexus 7 tablet for Google. To cover all the bases, Asus recently announced its "Transformer Book Trio," which pairs a Windows 8 notebook with an 11.6 inch display that doubles as an Android tablet.
Last year, reviewers noted that "Google apps run better on the iPad Mini than the Nexus 7," despite CNET's report that its own "reader poll" favored the Nexus 7 over the iPad mini by a significant margin.