Apple and DOJ present closing arguments in e-books antitrust trial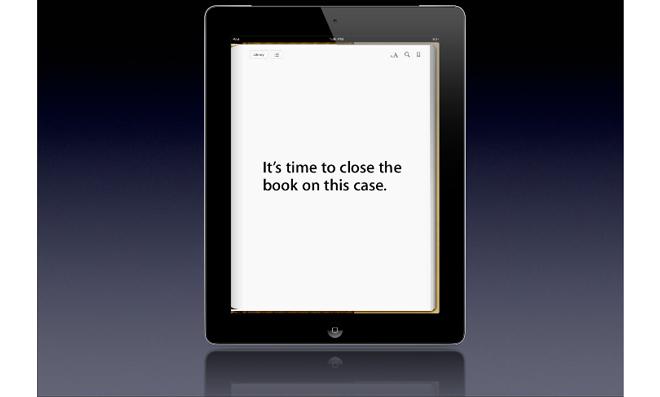 AppleInsider may earn an affiliate commission on purchases made through links on our site.
The U.S. Department of Justice's case against Apple over alleged e-book price fixing came to an end on Thursday, with both sides presenting standard closing summations to Judge Denise Cote, each reiterating arguments asserted over the past two weeks.
Starting off the proceedings on Thursday was Apple's lead counsel Orin Snyder, who, according to AllThingsD, argued that the Justice Department failed to meet its burden of proof in alleging Apple colluded with five major book publishers to falsely inflate the prices of e-books sold in the iBookstore.
Snyder went further, saying that the DOJ went too far in prosecuting Apple for legal business maneuvering.
"Apple did not conspire with a single publisher to fix prices in the e-book industry," Snyder said, adding the e-book pricing negotiations were "standard, lawful business activity. All of the government's evidence is ambiguous at best."
The Justice Department is accusing Apple of fixing the prices of e-books sold through its iBookstore under a so-called "agency" pricing model, in which content owners are not able to sell the same titles at a cheaper cost elsewhere without offering Apple the same price. This was in contrast with the wholesale model used by market leader Amazon. Under that strategy, resellers held the power as content was purchased from publishers and could be sold at or below cost.
Apple's summation was very much in line with its opening arguments, which claimed the DOJ's case was "bizarre." Part of the government's argument was that Apple's pricing negotiations hurt consumers by forcing other retailers to also adopt agency.
During testimony earlier this week, Apple's vice president of Internet Software and Services Eddy Cue said he "didn't care" about what prices publishers negotiated with other retailers like Amazon.
In its closing slide deck, Apple ended with a picture of an iPad running iBooks, with the words "It's time to close the book on this case" showing in bold black print.
After evidentiary presentation wrapped up yesterday, Judge Cote said "issues have changed," a remark some take to mean the DOJ failed to prove any wrongdoing on the part of Apple. The jurist offered a "tentative view" before the trial got underway on June 3, saying that from what evidence she had seen, the Justice Department would likely be able to prove Apple was culpable.
Speaking for the DOJ, lawyer Mark Ryan reiterated that Apple's alleged collusion drove e-book prices from the prevailing $9.99 price set by Amazon to $12.99 and $14.99, reports Reuters.
"Only a united industry front could move Amazon off its $9.99 price," he said.
During Ryan's summation, Judge Cote asked him to respond to an argument Apple pitched earlier in the week, and again on Thursday, claiming that certain e-books wouldn't have been available at any price without the pricing model set forth by the iBookstore. The statement, made by Snyder, was in reference to a tactic called windowing, in which publishers would hold off on releasing titles on e-book until the more lucrative hardcover version had been on shelves for a few weeks. Without Apple's model, those titles would not have been immediately available as e-books.
Ryan rejected Apple's argument. Previously, he presented statistics showing that only publishers windowed only 37 books in 2009, the year prior to the introduction of the iPad and iBooks.
"We don't know what course competition would have taken the industry on," Ryan said.
Judge Cote is expected to consider the evidence and hand down a ruling in the coming months. There is no set date or deadline, though it usually takes an average of two months to reach a decision in bench trials of this magnitude. If the government wins the case, another trial will commence over damages asserted by 33 state attorneys general.