Apple's iTunes accounts for 75% of global digital music market, worth $6.9B a year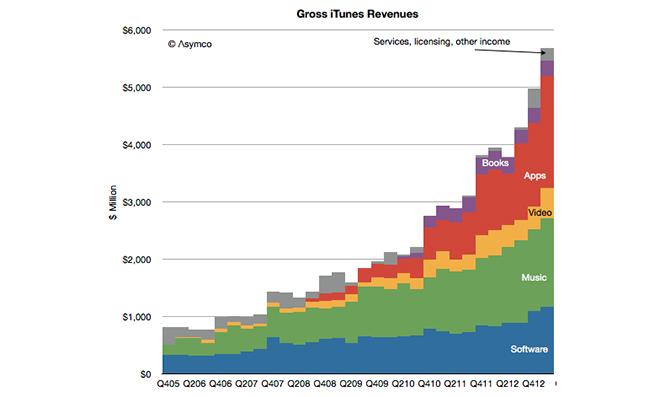 After Apple published numbers for iTunes TV show and music downloads on Wednesday, Asymco's Horace Dediu broke down the stats to reveal the online storefront rakes in some $6.9 billion each year, or roughly 75 percent of all digital music sales.
According to Dediu, the average iTunes account holder spends about $12 per year on music, reports Billboard (via AllThingsD), and with 575 million active users, Apple's annual revenue hits $6.9 billion.
The publication notes that the IFPI set the trade value of the global digital music market in 2012 at $6.9 billion, which is about 35 percent of the $16.5 billion for all recorded music. To extrapolate consumer spending, Billboard assumes labels net 60 percent of the retail price, resulting in a digital market worth $9.3 billion.
That means Apple's $6.9 billion account for about 75 percent of the $9.3 billion global digital music market. The remaining slice of the pie is divvied up to streaming music services like Pandora and retailers like Amazon.
Apple, however, recently announced its own Internet radio streamer in iTunes Radio, an ad-supported service that has built-in links to purchase songs directly from the iTunes store. As the feature has yet to roll out to the public, it remains to be seen whether Apple's system will be competitive with already established apps.