Review: Apple's new 11-inch MacBook Air (Mid-2013)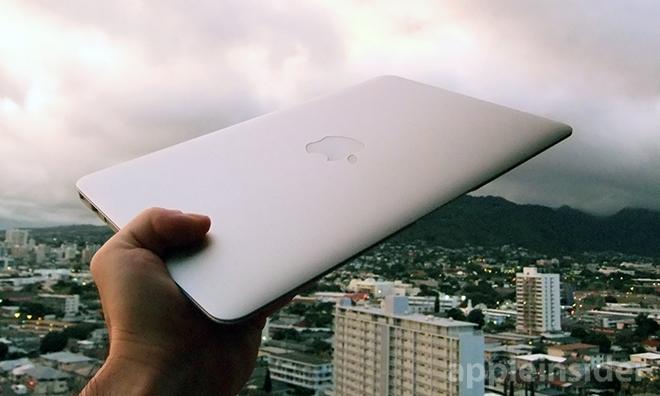 Apple unveiled the latest incarnation of its hot-selling MacBook Air lineup at WWDC 2013, taking somewhat of a gamble in concentrating on greatly extended battery life in lieu of a more conventional performance boost. But did that bet pay off?
When it was introduced in 2008, the MacBook Air was viewed as somewhat of a niche product. Paltry battery life, mediocre performance and a hefty price tag forced the ultraportable into a niche category reserved for road warriors who valued portability above all else. The introduction of the 11-inch model in 2010 further muddied the waters, as it came just months after the launch of Apple's iPad in April.
However, subsequent updates have made the MacBook Air one of Apple's most popular computer lines.
In 2013, Apple could have stuck with a normal refresh cycle to release new models with the usual speed and minor battery life buffs. Instead, the company surprised and chose to go all in on endurance.
Design
This entire section can be summed up in two words: dual microphones.
Apple made zero changes to the Air's exterior aside from adding a second tiny hole for a two-mic setup similar to the one seen on the pricier MacBook Pro with Retina display. The change is hardly noticeable aesthetically, but makes a world of difference in use. More on that later.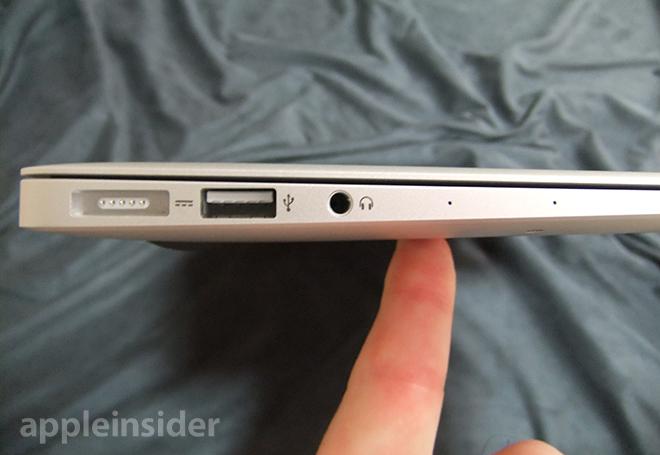 Other than that, the 2013 MacBook Air is completely identical to the 2012 model. This is a good thing, as Apple's ultraportable is one the most impeccably designed and solidly built laptops on the market. The unibody chassis adds incredible torsional rigidity, while the 0.68 inch-to-0.11 inch (1.7cm-0.3cm) taper lends just enough tilt for typing.
Weight remains the same as last year's model at 2.38 pounds, meaning less than one pound separates the 11-inch Air from the 1.46-pound 9.7-inch iPad with Wi-Fi + Cellular.
Other niceties carried over from the previous iteration are stereo speakers, a large multitouch trackpad, one Thunderbolt and two USB 3.0 ports, and a "full-size" backlit keyboard.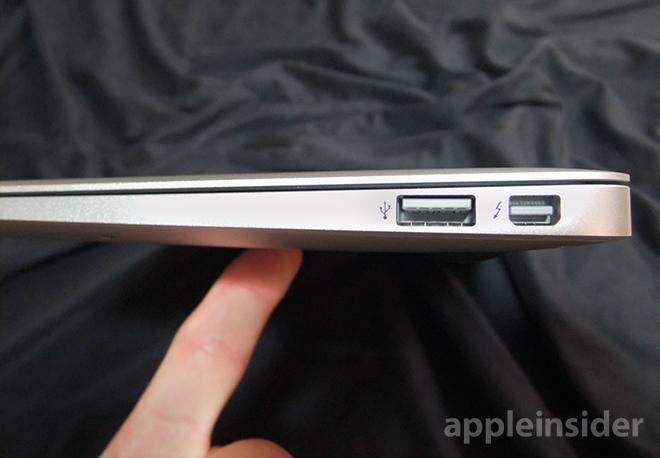 As with previous 11-inch MacBook Airs, the letter and number chiclet keys are indeed full size, but the top and bottom rows are more narrow than the 13-inch model. Despite their size, Apple has found a way to make the scissor-type key mechanisms work, with adequate depth and feedback for touch typists.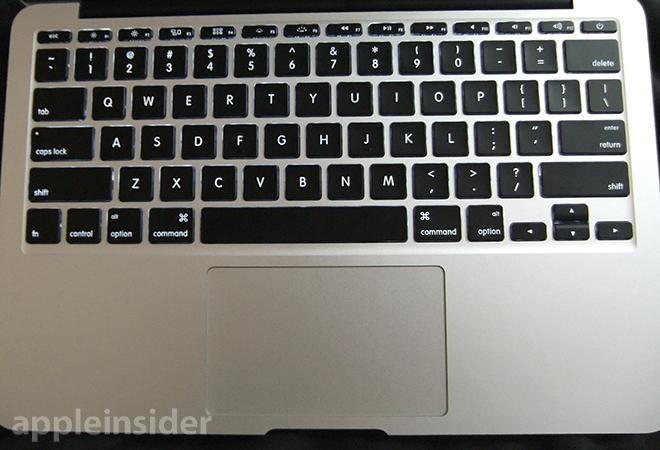 Internals
With a winning product design already in place, Apple focused on the internals of its diminutive laptop lineup for 2013. In such a compact chassis, the company could have conceivably gone one of two routes: greater performance or greater efficiency.
After reading the spec sheet, it was clear that Apple was willing to sacrifice all-out speed for extended battery life with Intel's next-generation Haswell ULT processors. Everything about the platform is tailored to be energy efficient. There is a moderate bump in performance, at least for some versions, but the significant power savings far outweighs the small speed boost.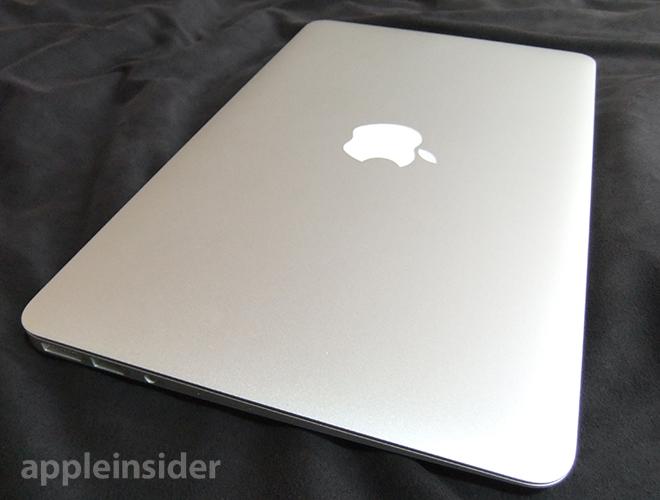 Apple's standard configuration for the 11-inch MacBook Air comes with a 1.3GHz dual-core Intel Core i5 CPU with Turbo Boost up to 2.6GHz, and 4GB of memory.
Our review unit came kitted out with a 1.7GHz dual-core Core i7 CPU with Turbo Boost up to 3.3GHz, and 8GB of LPDDR3 RAM running at 1600MHz. The LPDDR3 memory standard is the latest in low-power tech, offering considerable efficiency improvements compared to the DDR3L RAM found in the last generation Air.
As for storage, Apple chose to do something special and switched to PCI Express as a bus for its solid state drives. The 2013 MacBook Air is the first Apple product to ship with PCIe SSDs, in our case a SanDisk component, and is among the first consumer grade computers to use the technology.
Apple now offers a 128GB SSD as standard across the MacBook Air line, with 256GB and 512GB options available for the pricier 1.7 GHz 11-inch model.
In addition to faster PCIe storage, Apple also bulked up the Air's battery to a 38Whr package, up from 35Whr last year. Despite the extra juice, the six-cell battery arrangement is still compact enough to fit inside the super thin chassis.
Performance
Obviously the first thing to test was battery life. Apple's claims are lofty, saying the 11-inch Air can run 9 hours on a charge, up from 5 hours in the 2012 version. Video watching is supposed to bring that number down to 8 hours, which is still a considerable feat given the power needed to drive the 1,366 pixel-by-768 pixel display.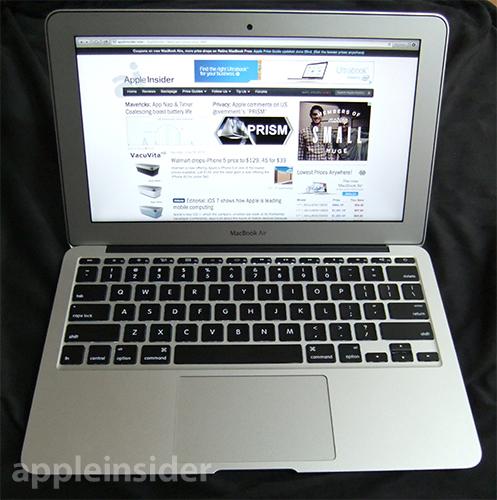 Not only did Apple deliver on the advertised battery life, but surpassed it by quite a measure.
In our short time with the Air, we were able to coax a little under 7 hours of life for daily work duties like writing, conducting online research, running multiple processor-intensive apps, light image editing and multimedia playback. Under a more "normal" load, like surfing the Web, listening to music and switching between two or three apps, runtime hit just below the 9 hour mark. With display dimmed to 50 percent and Power Nap turned off, that number jumped to well beyond 9 hours.
Most impressive, however, was video playback. We played a 1080p MP4 version of "Skyfall" saved to the Air's SSD, full screen with backlight and volume settings set to max, as a sort of torture test. The battery lasted for almost 10 hours.
In fact, our video playback test had to be repeated because the first trial ended up running past 1 a.m., with the battery still holding a 31 percent charge. Upon cycling the battery and retesting, starting from the morning this time, the Air lasted for exactly 9 hours and 47 minutes.
Recharging the Air takes 1 hour and 15 minutes, roughly equivalent to some iOS devices, and much faster than the latest full size iPad. Apple's claims the Air can be in sleep mode for a month, and we tend to agree considering the machine lost only two or three percent of battery life overnight.
Second on the new features hit list was the MacBook Air's 802.11ac Wi-Fi capabilities. Although not yet widely adopted, the protocol promises a theoretical throughput of up to 1300 Mbps if used with Apple's latest AirPort Extreme. There are already other routers on the market that bring claimed speeds of 1700 Mbps, but those numbers too are theoretical.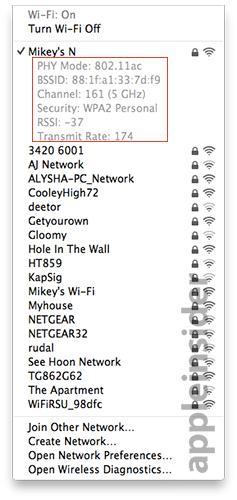 As for the Extreme, the unit itself looks like a wider AirPort Express that has been extruded, reaching 6.6 inches tall. Apple says the new model's footprint is 64 percent smaller than the previous flat version, but the greatly increased height means users may have to find a new place to set it up.
The revamped design isn't just for style, however, as the Extreme now carries a total of six antennas near the top of the tower, three for the 2.4GHz band and three for 5GHz, which supposedly widens the station's area of coverage. Beamforming is also included in the redesign, though we found only slight connectivity enhancements at extended ranges.
Because 802.11n on 5GHz MIMO already pegs the needle for our 50Mbps down/5Mbps up Internet connection, we set up a personal LAN network with an external SSD drive feeding data through the AirPort's Ethernet connection. We also performed tests via the Extreme's USB ports.
Transfer rates were significantly better than 11n, but nowhere near the theoretical 1300Mbps limit. It would be faster to connect to a USB 2.0 HDD than use 11ac, but the bandwidth promised by the tech is promising. Once other OEMs start churning out compatible hardware, the standard should hit its stride and Apple will already have worked out the kinks in its system.
Another first for Apple is a PCIe based SSD, in our case the standard 256GB version. Performance was beyond impressive with Blackmagic's Disk Speed Test clocking read/write speeds at 722 MB/s and 575MB/s, respectively. This far outclasses any SATA system Apple has ever released, including the current MacBook Pro with Retina display's SSD outfit.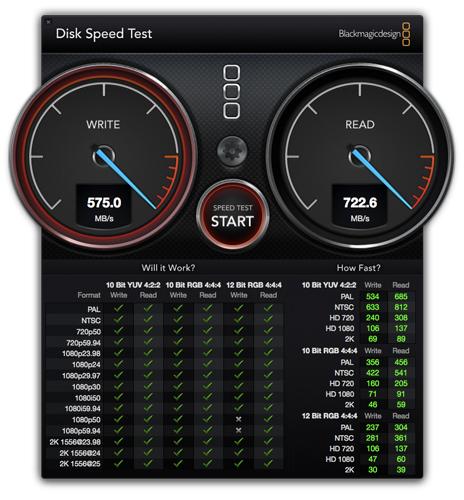 Apple's inclusion of PCIe is one of the main reasons the system feels so snappy despite being low-voltage, a major improvement over last year's Air. OS X doesn't feel weighty or overbearing, and is now just as comfortable on the ultralight as it is on a Pro machine. This goes a long way in separating the Air from competing Windows devices, which run bloated operating systems that quickly bog down the hardware.
Graphics received a minor boost with Haswell, which, in the Air's energy-sipping setup, uses integrated Intel HD Graphics 5000. The new chipset is quite capable, especially for an ultraportable computer. We experienced some "wobble" when quickly swiping between full-screen apps and spaces, likely due to the screen's refresh rate, but under normal use everything was silky smooth.
As mentioned above, video playback is incredible. Movies and TV shows saved to the SSD started immediately and scrubbed smoothly, while streamed content showed little lag thanks in part to the efficient 802.11ac card. Expectedly, streaming video greatly affects battery life, bringing the almost 10-hour limit seen with "Skyfall" down to roughly 8 hours. Still, for HD content, those numbers are more than acceptable.
Running processor-intensive programs like Adobe Photoshop CS6 was better than anticipated, but hardly ideal. The 11-inch Air isn't designed to be an image editing beast, though it faired well and we would consider its performance "passable" for quick, non-comprehensive adjustments.
Lighter weight photo management and editing tools like Pixelmator performed much better, though graphics-intensive operations were a bit choppy.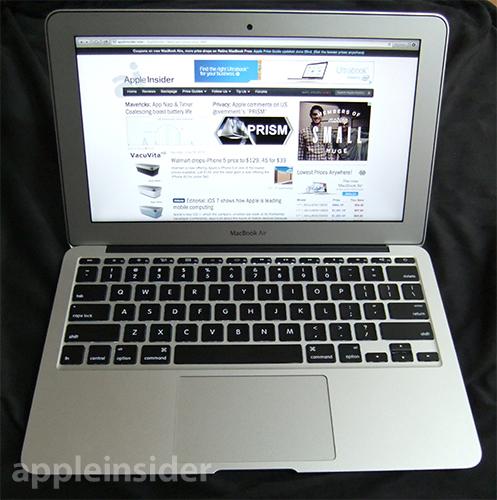 Audio output was passable, with audible distortion coming in at around 85 percent of maximum. The 11-inch Air was never a strong player in the audio department, and there isn't much change from previous models, but the under-keyboard speakers are a lot better than the stereo setup found in the iPad min.
Audio input was a completely different story. Compared to our single-microphone late-201115-inch MacBook Pro testbed, the new dual-mic setup brings a tangible difference in both clarity and presence. We tested out the system over FaceTime and found the second mic to make a huge difference in wiping out ambient noise like fans and the din of a busy street intersection.
Apple says the two mics create an adaptive audio beam to home in on your voice when using OS X Mountain Lion's Dictation speech-to-text feature. We can confirm recognition was slightly better in a side-by-side comparison, though it's hard to say whether it was beamforming or simply the location of the microphone.
In an unscientific test, we brought up the OS X audio input options in Settings and measured levels from a constant tone, rotating the laptop from left to right. The results were interesting. Initial levels were strong, then dropped down about 50 percent when the Air was rotated 45 degrees to the right, only to pick back up to the original volume after about one second. While suggestive of dynamic audio tech, the results are far from conclusive.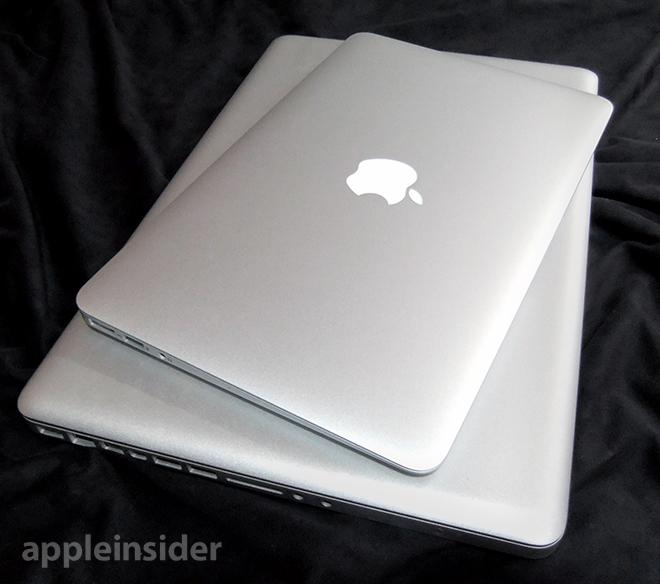 Apple's 11" MacBook Air sitting atop a 2011 15" MacBook Pro.
Conclusion
Apple's 11-inch MacBook Air has always been a featherweight, giving up both the power and endurance of its slightly larger sibling for portability. The specs used to be such that the laptop was compared to the iPad, which out of the gate boasted long battery life and perks like an instant-on operating system.
Almost everything has changed with this year's model. Realistic all-day battery life, more than acceptable performance and speed thanks to PCIe, and future-proof 802.11ac, all in a super portable form factor.
Some consumers were disappointed that Apple didn't move the Air lineup over to high-resolution Retina displays, but it is almost guaranteed that such a change would negate all the power savings squeezed out by Haswell. A Retina display would be nice, but for many the vast improvement in battery life far outweighs the extra pixels.
Going into 2013, the MacBook lineup has become less crowded with the deprecation of non-Retina display Pros, leaving a wide gap between Apple's tablet offerings and its top-of-the-line laptops. The Airs fit nicely into that new space, and the new 11-inch version's hardware definitely creates separation from the company's tablets.
In 2013, Apple's smallest ultraportable has finally come into its own.
Score: 4.5
Pros
Extreme battery life
Speedy Wi-Fi and SSD
Ultra quiet, near zero fan noise
Cons:
Power savings come at cost of processor speed
No Retina display…yet
Audio still needs work
How to save when Buying
AppleInsider readers interested in picking up the latest MacBook Air can always find the lowest pricing on Apple produces in our Price Guides. Currently, using the MacMall links in those guides — or those included in the Price Guide insert below — will active the Promo Code field on MacMall's product pages for all MacBook Airs, MacBook Pros and iMacs that they stock. Entering Promo Code APPLEINSIDER01 and then clicking "Apply" will take an additional 3 percent off MacMall's already discounted pricing on these Macs, yielding what is almost always the lowest price available for that Mac.
The 3% discount is available only when ordering online and online orders are processed in the order they are received. It's also worth noting that unlike stores like Apple, Wal-Mart, and Target, MacMall only collects sales tax in CA, IL, NY, TN, MN, GA, NC, WI. (Models highlighted in green were in stock as of press time and the remaining shipping within a business week.)
New MacBook Airs
New MacBook Airs with 3-years of AppleCare Protection
Meanwhile, readers who are looking to bundle their new MacBook Air with 3-years of AppleCare Extended Warranty Protection can also use the links in our New Macs + AppleCare Price Guide for exclusive pricing on MacBook Air+AppleCare bundles from B&H (segment below). The Manhattan-based super store is the largest authorized Mac reseller by volume in all of Manhattan, and also only charges sales tax on orders shipped to its home operating state of New York. The prices in this price guide are for Macs with the cost of the discounted 3-Year AppleCare protection plan factored in.