Apple holds 39% of US smartphone market, far ahead of Samsung's 23%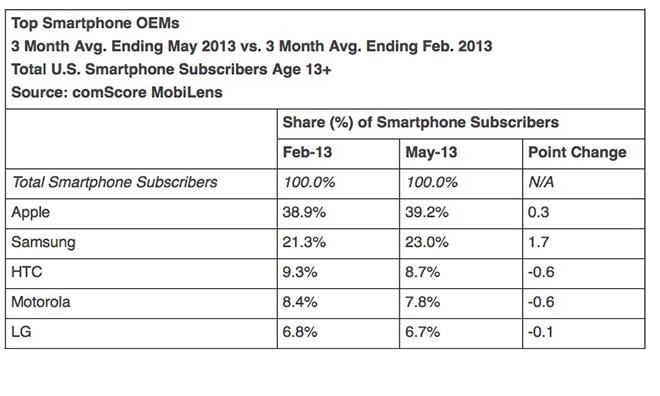 Apple's iPhone increased its lead in the United States smartphone market through the end of May, inching toward a 40 percent share, while the other major competitors outside of Samsung lost share.
The newest figures from market research firm comScore found Apple going coming out of May with a 39.2 percent share of U.S smartphone subscribers, up 0.3 points from the period ending with February. Google's Android remained the overall top platform among America's smartphone owners with a 52 percent overall share, but Apple's iOS was second with 39.2 percent.
A solid second to Apple was its chief rival Samsung, which also gained share in the period ending in May, likely due to the launch of the Galaxy S4, Samsung's new flagship device. The South Korean conglomerate, which is the number one overall leader in smartphone sales worldwide, saw its share of the U.S. market move up 1.7 points from 21.3 percent in February to 23 percent by May.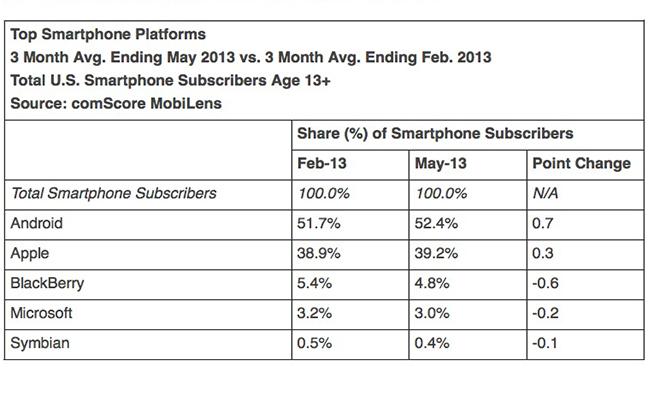 Samsung and Apple already capture 100 percent of the smartphone industry's profits, according to some estimates. Now the two together account for more than 60 percent of the U.S. smartphone market.
comScore's figures saw the other major handset manufacturers continuing to shrink in importance. HTC and Motorola each lost 0.6 points to end May at 8.7 and 7.8 percent of the U.S. market. LG dropped 0.1 points to 6.7 percent.
Overall, though, the study seemed to indicate that the trend toward smartphone adoption shows no signs of slowing down. comScore found that 141 million people in the United States owned smartphones. That amounts to 59 percent mobile market penetration, up six percent since February.