iOS 7 beta: Safari ditches '.com' button, dots return in Calendar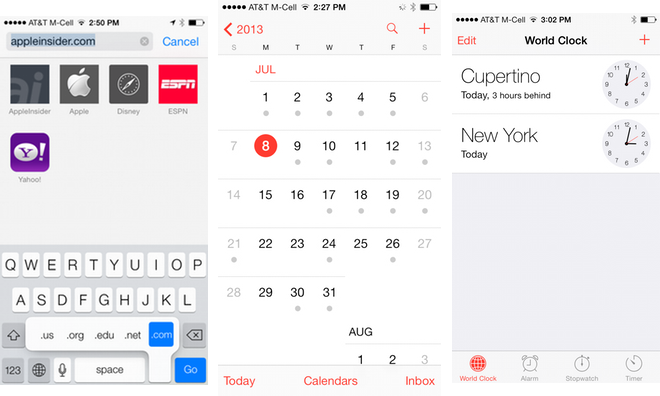 The third beta of iOS 7 features a number of subtle but significant tweaks to the pre-release operating system, including the return of event day dots in Calendar, and the removal of the ".com" button from the virtual keyboard in Safari.
The ".com" button in Safari was an annoyance for some beta testers, who complained they would accidentally hit it instead of the space bar. The button was a remnant from earlier versions of iOS, when the search field and URL entry space were separate.
Starting with iOS 7, Apple has unified the URL and search bars into one user interface element. But the remaining ".com" button made the space bar smaller, and would lead to accidental presses when users meant to search rather than type in a URL.
Monday's release of iOS 7 beta 3 addresses that frustration experienced by some developers. As a replacement, users can hold down on the period button located to the right of the space bar, and the usual options of ".com," ".net," ".org," ".edu," and ".us" become available.
In another change to the third beta of iOS 7, Apple has brought back event day dots when using the native Calendar app in month view. In the first two betas, the redesigned Calendar app lacked the dots that were used in previous versions of iOS to allow users to know which days on their calendar included an event.
With iOS 7 beta 3, individual days on the calendar will have a small gray dot underneath the date to indicate that one or more calendar entries are scheduled for that day.
Other minor changes can be found throughout iOS 7 beta 3. For example, contact options in Messages have changed from text to icons.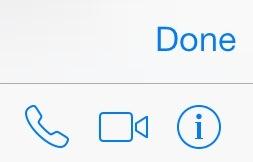 And in Photos, the "Add" button has been changed to a plus sign, while a new "Add To" feature when selecting photos allows for easily placing pictures in albums. Fonts throughout the system have also been made easier to read, with a slightly thicker design.
The lock screen has also been tweaked to display current music album art, controls and time all simultaneously. And "World Clock" selections in the Clock app will inform users in words how many hours ahead or behind another time zone is.
In addition, when applications are installing from the App Store, Apple has changed to a new circular, clock-like loading animation.
For an in-depth look at the sweeping changes included in Apple's next-generation mobile operating system, see AppleInsider's Inside iOS 7 series.