iPhone users pay average of 19 cents per app, Android users pay just 6 cents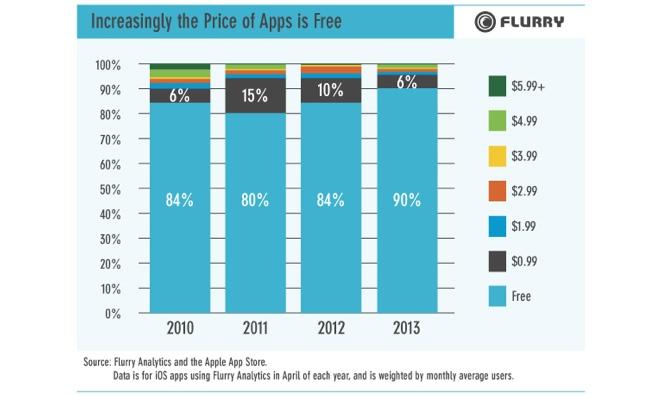 The dominance of free mobile applications continues to grow, as a new study reveals that iPhone users spend an average of 19 cents per app downloaded, while Android users spend only 6 cents per download.
The new figures were revealed by mobile app analytics firm Flurry in a post to its official blog on Thursday. While the average amount of money paid per iPhone download is 19 cents, the figures reveal that iPad owners are more likely to spend money on mobile downloads, with Apple's tablet carrying an average of 50 cents per app.
Android users, meanwhile, are the least likely to pay for software, at just 6 cents per download — less than a third of what iPhone owners pay, and more than eight times less than the average spent by iPad users. Flurry's data is collected from more than 350,000 applications available on iOS and Android.
Author Mary Ellen Gordon said the data suggests consumers are willing to see in-app advertising in exchange for free content, particularly on Android.
The numbers also show that many developers who test their pricing structure ultimately decide to give their apps away for free. As a result, Gordon characterized in-app advertising is "a sure thing for the foreseeable future."
Another reason for the downward trend of application prices is an increasing reliance by developers on in-app purchases. One study from earlier this year found that 71 percent of iPhone app revenue comes from so-called "freemium" titles, which are free to download but offer additional content through in-app purchases.
Apple's iOS App Store has long been identified as the dominant platform from which developers can earn money for their software. That potential for revenue has made the App Store the default choice for many developers, despite the fact that Android is the dominant smartphone platform in terms of market share.
One study released in May found that the top applications on iOS earn 4.6 times more than those on Google's Android platform. For the month of April, the top 200 grossing applications on the iOS App Store brought in $5.1 million per day, while Android's top 200 grossing downloads brought in $1.1 million per day.