Apple's iOS maintains dominance over Android with 63% mobile browsing share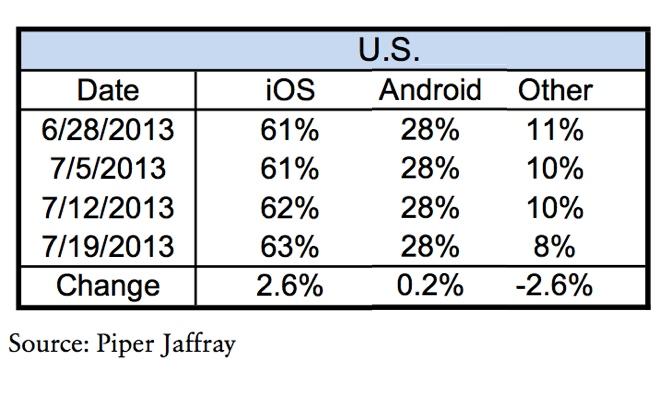 AppleInsider is supported by its audience and may earn commission as an Amazon Associate and affiliate partner on qualifying purchases. These affiliate partnerships do not influence our editorial content.
New mobile Web browsing data shows that iOS users remain far more active on the Internet than their Android counterparts, with Apple's devices accounting for nearly two-thirds of all domestic mobile website traffic.
With data pulled from 70 of the most popular mobile websites in the U.S., Gene Munster of Piper Jaffray found that traffic from iOS devices increased by 2.6 percentage points to capture 63 percent of domestic mobile traffic share. Android also saw a slight increase of 0.2 percentage points over the past four weeks, putting the platform at 28 percent — less than half of Apple's share.
Other competing platforms, such as Microsoft's Windows Phone or BlackBerry 10, could only muster a collective 8 percent share as of July 19. That was down 2.6 percentage points over the last month.
In a research note to investors on Monday, Munster highlighted the fact that Apple's iOS platform was responsible for 80 percent of smartphone sales at AT&T in the first quarter of the year, while more than half of all smartphones activated at Verizon in the June quarter were iPhones. However, he said Apple's dominance among Web browsing it's not just attributable to the fact that the iPhone is the most popular smartphone in the U.S. — iOS users are also clearly. more engaged with their devices than those who use Android.
Finally, Munster said that the iOS platform also sees a strong boost from tablets, where Apple's iPad lineup is again the market leader. Looking forward, he believes future products like a next-generation iPhone and a more affordable "iPhone Lite" will help maintain Apple's lead in mobile browser market share.
On a global scale, Android continues to outpace iOS in terms of market share, shipping on 59.5 percent of all worldwide "smart mobile devices" — tablets, smartphones and laptops — in the first quarter of calendar 2013. For that same period, Apple took a 19.3 percent share, according to Canalys.
Munster views Apple as "the leader in the mobile device and digital content distribution markets," and remains bullish on the company's stock. Piper Jaffray has maintained its $655 price target for AAPL shares, and continues to rate the company as "overweight."