Part leak suggests Apple's low-cost iPhone will have same 8MP camera as iPhone 5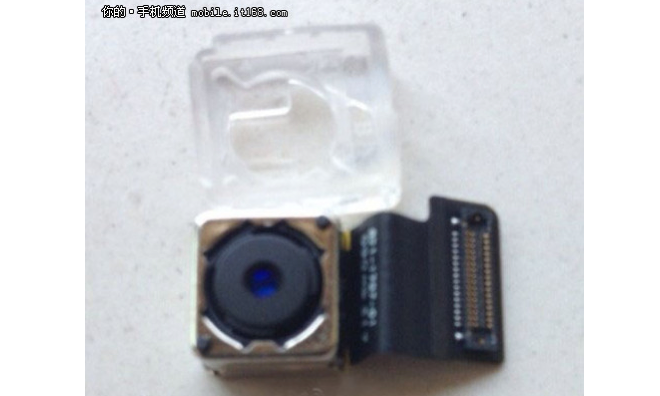 Apple's anticipated low-cost iPhone is expected to be essentially an iPhone 5 with a plastic back, right down to the same 8-megapixel rear camera, if a newly leaked part proves accurate.
A supposed "iPhone Lite" or "iPhone 5C" rear camera was published on Thursday on Chinese site IT168, and highlighted by MacRumors. The part is claimed to be a camera module for Apple's anticipated low-cost iPhone.
The original report claims that the part is the same 8-megapixel lens already found in Apple's iPhone 5, and even features the same sapphire crystal scratch-resistant cover.
Previously, it was also claimed that the "iPhone Lite" will feature the same A6 processor and 1 gigabyte of RAM as the existing iPhone 5. With largely the same internals, the exterior rear shell of the device is expected to be plastic, and come in a variety of colors.
Apple's alleged production schedule for the low-cost iPhone is expected to have the device ready for launch as soon as early September, according to well-connected analyst Ming-Chi Kuo of KGI Securities. He expects that the device will cost about the same as the current iPhone 4S, between $450 and $550, and will be easy for Apple to manufacture, as it will recycle many parts from the iPhone 5.
The same was not said by Kuo of the so-called "iPhone 5S," which the analyst expects will be in short supply when it launches this fall. In particular, Apple's next-generation iPhone is rumored to feature a fingerprint sensor beneath the home button for securely identifying users.
As for the camera on the "iPhone 5S," one rumor from earlier this year claimed Apple would bump the internal sensor up to 12 megapixels. It's also been said that the camera will take better nighttime photos with improved sensitivity, while dual LED flash is expected to improve illumination capabilities in low-light situations.