iPhone home button fingerprint scanner described in latest iOS 7 beta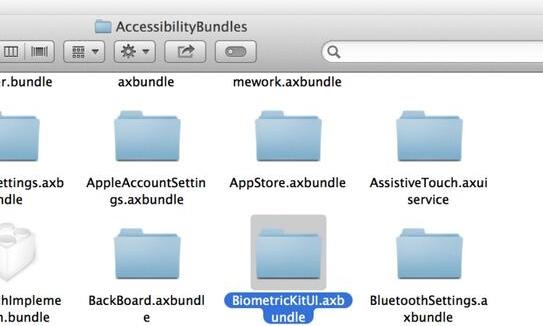 Apple's latest iOS 7 beta includes a reference to a "Biometric Kit," offering the strongest evidence yet that the company's next iPhone will include a built-in fingerprint scanner underneath the home button.
iOS 7 beta 4 includes a reference to a "Biometric Kit." Screenshot via Hamza Sood.
A folder entitled "BiometricKitUI.axb" was discovered in iOS 7 beta 4 on Monday by Hamza Sood. A text string accompanying the folder describes an image showing a person "holding an iPhone with their right hand while touching the Home button with their thumb."
Another string of text shows that the system will inform users on the completion status of scanning their fingerprint, presumably counting up to 100 percent.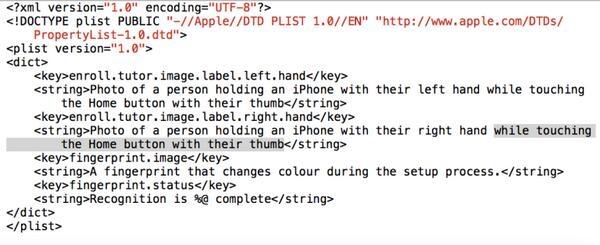 iOS 7 beta 4 text strings. Screenshot via Hamza Sood.
The rumored "iPhone 5S" feature is believed to be powered by Apple's $356 million acquisition of AuthenTec last summer. The firm described that its "semiconductor-based sensors are based on both capacitive and radio frequency (RF) technology that detects an image of the fingerprint ridge and valley pattern beneath the surface of the skin, thus capturing sharp and clear fingerprint patterns from the live layer."
"This approach, which is in marked contrast with optical, thermal and other solutions that simply read the surface of the skin, gives AuthenTec sensors significant advantages in image quality and in the protective coatings that the sensor can image through."
A supercharged Home button
AppleInsider noted last August that Authentec's AES850 component, called "the world's smallest authentication/navigation smart sensor in a durable package," appeared capable of serving as an iPhone Home button.
"This could allow Apple to supercharge its iOS Home button, enabling users to initiate different tasks (such as launching specific apps, Siri or Spotlight search; call a particular favorite contact; start a specific playlist or ask for directions to get home) with different fingers," our report stated.
"In addition," it detailed, "AuthenTec's Smart Sensor can also be used to provide touch-based navigation, functioning as a 'precise cursor control for text editing,' with support for '360 degree mouse navigation,' 'optical joystick emulation,' or as a 'unique turbo-scroll feature for rapid browsing of long emails, contact lists or websites,' according to public information released by the firm prior to its acquisition."
In January, well-connected insider Ming-Chi Kuo of KGI Securities cited sources as confirming that Apple was planning to include a fingerprint sensor underneath the home button in this year's iPhone upgrade.
According to Kuo, users will simply place their thumb over the iPhone's home button when prompted. This will allow the device to identify the user for various tasks such as entering passwords or authorizing purchases.
AuthenTec's "Smart Sensor" component is believed to be the key piece of technology Apple was interested in acquiring. That product measured just 1.3 millimeters thick while being able to scan 500 pixels per inch.