Home button fingerprint sensor in 'iPhone 5S' would give Apple a new leg up on the competition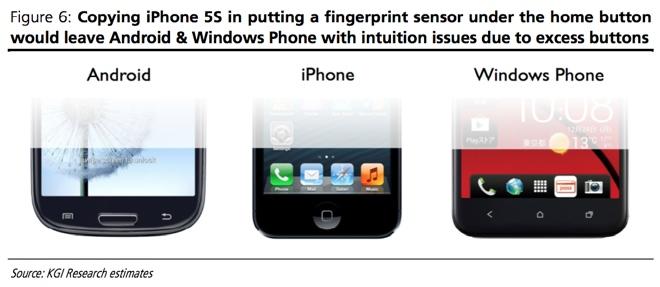 Apple is expected to launch a new iPhone this year with a fingerprint sensor hidden beneath the home button — an intuitive design that could be difficult for competing Android and Windows Phone devices to copy.
Analyst Ming-Chi Kuo of KGI Securities expects Apple's acquisition of AuthenTec to pay off this year with the so-called "iPhone 5S," the company's anticipated next-generation handset. He believes Apple will find a way to integrate the fingerprint sensor into the home button, allowing Apple to keep its "minimalist design."
In contrast, many Android and Windows Phone devices have more than one button below the display, and those buttons frequently lack the mechanical push of Apple's home button. As a result, attempts to integrate fingerprint scanning on competing devices would be less intuitive, and could frustrate users, Kuo said.
He believes that with the addition of a fingerprint sensor below the iPhone's home button, Apple will be able to replace the use of usernames and passwords, allowing users to authenticate in a more efficient manner. He also expects that the fingerprint scanner will integrate with applications such as Passbook to enhance their functionality.
Kuo has a particularly strong track record in predicting Apple's future product pipeline. Last year, the analyst accurately forecast the company's entire fall lineup, including the taller design of the iPhone 5 and iPod touch, thinner iMacs, the iPad mini, and the fourth-generation iPad with Lightning connector.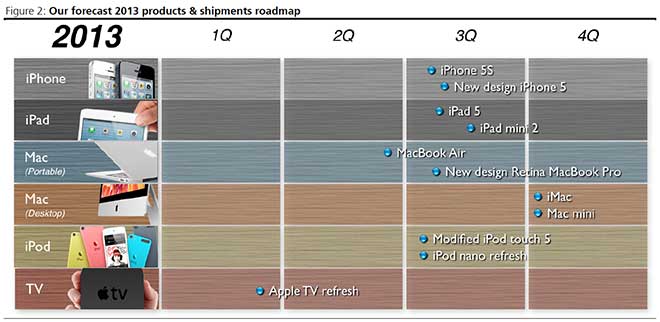 Beyond the "iPhone 5S," Kuo expects a new handset based on the iPhone 5 design will also launch this year. Kuo's comments are in line with recent rumors, that have pegged Apple as planning to release a more affordable iPhone model this year targeted at emerging markets.
Kuo believes the less expensive iPhone 5 will feature a new design, including a plastic casing, to cut costs and expand Apple's iPhone lineup.
The analyst has also predicted that the iPad mini will gain a Retina display in 2013, while the full-size iPad will sport a lighter and thinner design with a smaller bezel. He also expects new Retina MacBook Pros with cheaper prices, the discontinuation of the legacy MacBook Pros, and a refresh to the Apple TV set-top box — but no full-fledged television set this year.