Apple's 2013 product pipeline to feature new iPhones and all-Retina iPad and MacBook Pro lineups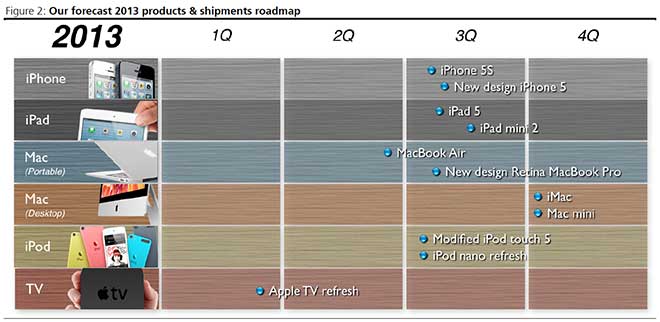 Analyst Ming-Chi Kuo of KGI Securities has made his Apple hardware predictions for the upcoming year, and expects a bevy of new iOS and Mac product releases will help the iPhone maker address a wider swath of the market
Kuo, who has seen previous success in predicting future Apple products, says the company will introduce a number of new iOS devices in 2013, including an inexpensive iPhone 5, upgraded iPhone 5S, Retina display-toting second-gen iPad mini and a redesigned fifth-generation iPad, among others. He goes on to say that Apple will retire the non-Retina MacBook Pro line and replace it with an all-Retina lineup at a lower price.
Kuo is quick to note that none of the product forecasts are expected in the first quarter of 2013 and says "many" will be introduced in the second half of the year.
According to the analyst, Apple will release both an iPhone 5S with updated internals as well as an inexpensive version of the current iPhone 5 design with a thicker plastic chassis available in six colors. The iPhone 5S, which Kuo believes will launch sometime in June or July, will have largely the same aesthetic as the existing model, but will boast a built-in fingerprint sensor, improved camera and more powerful A7 SoC. A slightly revamped "new design" iPhone 5 is expected to go on sale as a less-expensive alternative to Apple's flagship handset at around the same time, with the affordable price tag attributed to a plastic exterior that will be available in multiple colorways.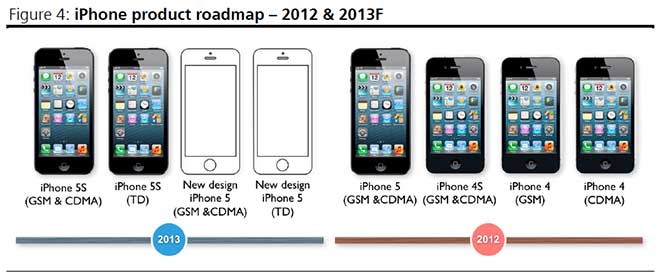 Kuo believes a new fifth-generation 9.7-inch iPad will launch with lighter frame and a more refined look, borrowing the narrow bezels seen on the iPad mini. In turn, the smaller tablet will move to generation two and get a Retina display that sports the same 2,048-by-1,536 pixel screen resolution as the existing full-size iPad. By using an identical resolution, app makers won't have to make software changes to fit a new native format. The same thinking was used when the iPad mini was released with a resolution identical to the iPad 2.
As for Apple's MacBook, the analyst sees an end of life for non-Retina MacBook Pros, which will be replaced by an all-Retina lineup that eschews optical drives. Pricing should be reduced to help move units. The MacBook Air will see little change besides a bump in internal specs as sizing down the high-resolution Retina display is seen as too steep a challenge at this time. Because the Air will not see a significant design change, the tweaked models are expected to arrive earlier in the year, with the all-Retina MacBook Pro line coming in quarter three.
In respect to the iPod product line, Kuo isn't expecting much in the way of revolutionary changes. With the fifth-gen iPod touch released, Apple will likely introduce a cheaper variant of the current design without a camera and less built-in memory to reach a target price of $199.
Finally, 2013 is expected to be the last year in which the Apple TV is considered a "hobby," but Kuo doesn't believe the company will introduce a full-fledged television set in the next 12 months. The existing media streamer is likely to morph into a serious business — possibly a full-fledged HDTV — in 2014, as Apple already has the infrastructure to support such a device with iTunes, the App Store and iCloud services. What the company lacks, however, is experience in the industry, especially concerning the establishment of a reliable supply chain. Kuo looks to the much-rumored "iTV" as a source of growth in the coming years.