Insiders say Apple upgrading next-gen iPhone display to 4" with 16:9 ratio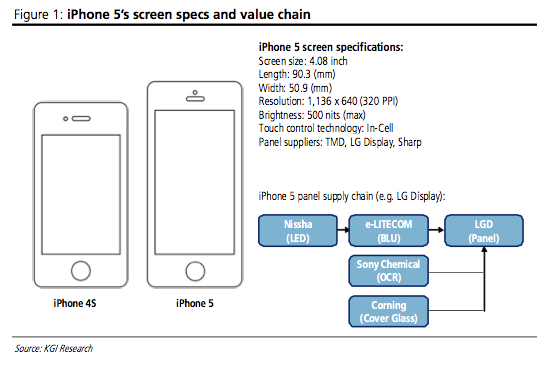 AppleInsider may earn an affiliate commission on purchases made through links on our site.
Apple is likely to increase the size of the display on its next iPhone to 4.08 inches, with a resolution of 1,136 x 640 pixels and a ratio of 16:9, according to one analyst with a strong track record.
KGI analyst Mingchi Kuo, known for having sources deep within Apple's supply chain, expects Apple to release a taller iPhone later this year that will switch from a 3.5-inch 4:3 display to a 4-inch 16:9 screen, according to a research note obtained by AppleInsider.
"We expect iPhone 5 to feature a 4.08-inch in-cell IPS panel screen with a display resolution of 1,136 x 640 and 500-nit brightness," Kuo wrote.
The analyst noted that the above specs would represent a valid compromise of Apple's values of single-handed operability, backwards compatibility with iPhone apps, battery life and an improved user experience derived from having a larger screen.
He speculated that Apple has ruled out displays above 4.3 inches because the resulting devices would be difficult to operate with one hand. His research also suggests that the there is an inflection point at 4.3-inches where larger screen sizes require "visibly larger" battery capacity.
Citing an earlier report where he discussed Apple's rumored plans to make the next iPhone thinner, Kuo said Apple will likely keep the battery capacity of the sixth-generation iPhone at around 1,400mAh, similar to the current-generation's capacity.
Lengthening the screen without making it wider would serve more than just an ergonomic purpose. Kuo believes the unchanged width would save on app redevelopment costs because legacy apps could simply be letterboxed. The 16:9 resolution would provide more viewing space while typing in portrait mode and would more naturally display films in landscape mode. The analyst also claimed that a longer iPhone would bring the speaker close to users' ears and the receiver closer to their mouths.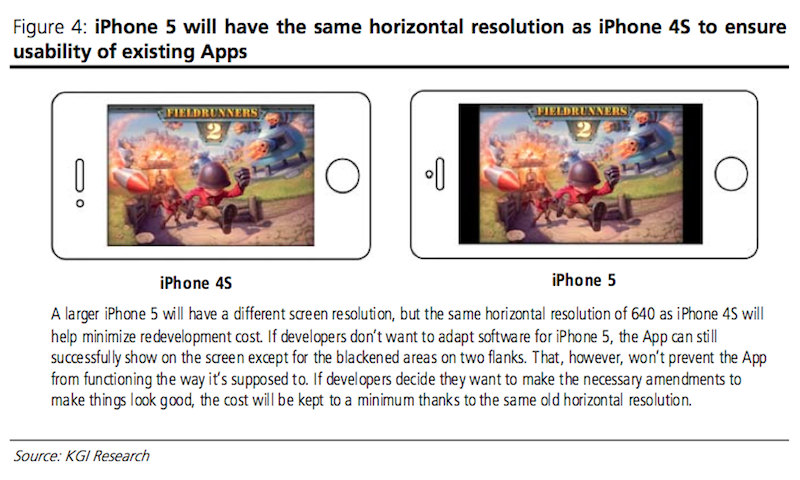 Kuo's analysis falls in line with several other similar reports that have suggested Apple may increase the height of the iPhone display without increasing the width.
The analyst estimated that the larger screen will help spur sales of the new iPhone when it arrives. He expects 65-70 million next-generation iPhone units to be sold in 2012.
Apple's next iPhone is widely expected to arrive this fall, though there is some disagreement about whether it will come in September or October. Scattered reports have suggested that Apple's next handset could make the leap to LTE, while others believe the device will sport a new design with an aluminum back.