Apple v. Samsung proceedings muddled, but experts say Apple had strong day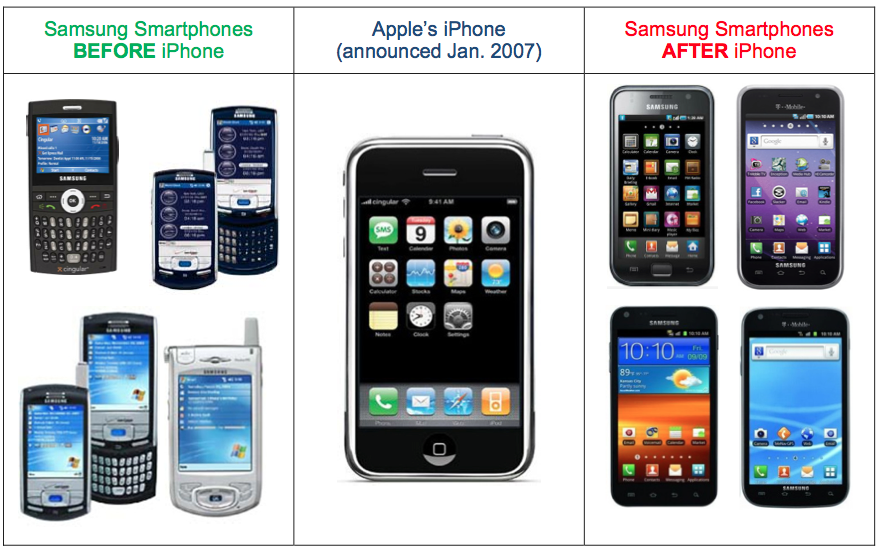 Legal observers have noted that Samsung appears to have gotten the worst of questioning in Friday's hearings with Apple at the U.S. Court of Appeals for the Federal Circuit, which could mean that the Cupertino company may be able to get the better of its rival in the coming months.
Friday saw the two tech giants meeting once more in front of a CAFC panel, which must to decide whether Samsung should have been allowed to continue selling a number of products deemed by a jury to have infringed on multiple Apple patents. Apple is arguing before the court that Samsung's products should have been enjoined from sale following the $1.05 billion infringement verdict handed down last August. Samsung has been pushing against such injunctions and has continually argued for retrials and reexaminations of the process that led to that verdict.
Apple argued that an injunction is necessary due to the infringed features themselves being sufficient cause for consumer demand. The company's attorney called the case a "classic" instance in which a sales ban was necessary due to infringement.
Should Apple prevail in the case, that would likely make it easier for the iPhone maker to name additional Samsung products as infringing in future legal matters. Apple has already attempted to add Samsung's newest flagship handset, the Galaxy S4, to a patent infringement suit, along with a number of other newer products. When that initial motion was rejected, Apple hinted that it could file a new suit to address the Galaxy S4, Galaxy Note II, and other newer Samsung products.
In court, the appeals judges pressed Samsung's attorneys on the issue of whether or not Apple's patent-protected features were sufficient drivers of consumer demand, according to The Wall Street Journal. The jurists also questioned U.S. District Judge Lucy Koh's prior findings that Apple didn't lose sales due to Samsung's infringements. Koh's reasoning, one judge suggested, added a "gloss" to the legal standards used in deciding when injunctions are a necessary remedy.
In addition to its continual arguments for prolonging legal action, Samsung has pressed against sales injunctions, arguing that simple monetary compensation should be sufficient. The company has stopped selling all but there of the products in question, according to Samsung's representatives, and Samsung argues that Apple's only purpose in asking for an injunction is to parlay a favorable decision into new litigation.
A sales ban, Samsung further argued, could seriously damage the South Korean conglomerate's relationship with retailers and wireless carriers. Those parties, Samsung claimed, could be more reluctant in the future to carry Samsung and other companies' products for fear that they too could get caught up in litigation for knowingly carrying an infringing product.
Patent law commentator Florian Mueller expressed confidence that the day's proceedings leaned in favor of Apple, saying he was convinced "that Apple will be granted a permanent injunction against Samsung over some if not all of the six patents and the trade dress a California jury found infringed almost a year ago." Continuing, he said that the sales ban would likely apply to newer infringing products, not just the other products that Samsung has already retired.
With regard to those retired handsets, Apple argues that Samsung's claims are somewhat deceptive. Newer models, Apple holds, still rely on the same features their predecessors did. Samsung has just recolored and renamed newer iterations of the same devices, Apple claims.
Not all of the day's proceedings were decidedly in Apple's favor, though. One judge reportedly said that Apple's legal argument was "a little unclear." The court will likely issue a written opinion in the case, though when such an opinion might see release is unknown.
In an associated case heard by the U.S. International Trade Commission on Friday, the trade body issued a final determination banning the import of certain Samsung products due to infringement of two Apple patents. The ban will go into effect after a 60-day Presidential review period.