Apple's iTunes Radio attracts ads from major brands like McDonald's, Nissan & Pepsi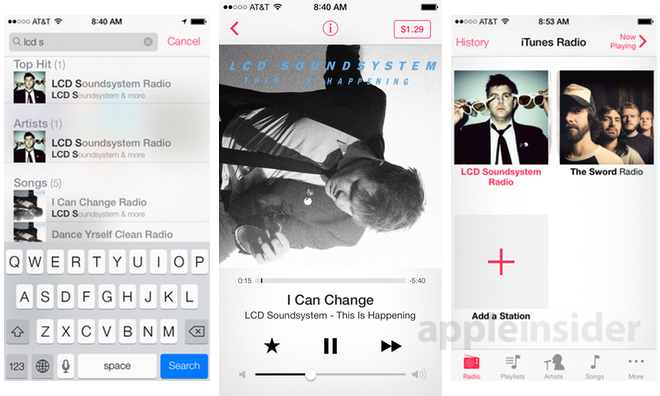 Apple's forthcoming iTunes Radio service, set to debut with the launch of iOS 7, has already attracted some premium brands for advertisers, including Proctor & Gamble, Pepsi, Nissan and McDonald's, according to a new report.
Details on the launch advertising lineup for iTunes Radio were revealed on Tuesday by AdAge, which named four of the "high-profile brand partners" Apple has ready to go. The report also indicated that "possibly one or two more brands" will be on board before the service is rolled out to the general public.
Some of the advertising deals are said to reach as high as tens of millions of dollars, with a minimum buy-in of $1 million. And Apple has been securing long-term contracts, extending up to 12 months, reporter John McDermott said.
Apple has incentivized partners to get in at launch by giving them exclusivity within their respective industries through the end of 2013. iTunes Radio ads will open up to the likes of Coca-Cola, a Pepsi competitor, or Toyota, a rival of Nissan, come January 2014.
iTunes Radio was announced by Apple in June at the company's annual Worldwide Developers Conference. A direct competitor to the current streaming Internet radio leader Pandora, the service offers users the ability to listen to customized stations for free with the occasional advertisement.
In addition to being built into the Music app in iOS 7, iTunes Radio will also be a part of iTunes for both Mac and PC, as well as the Apple TV set-top box.
Customers who subscribe to Apple's $24.99-per-year iTunes Match service can listen to content on iTunes Radio without an advertising interruptions. And if a user hears a streaming song that they like, Apple offers quick access to purchase that track on iTunes — even on the iOS lock screen.
Currently available as part of the iOS 7 beta for developers to test, iTunes Radio has featured placeholder advertisements. Those ads are delivered through Apple's iAd service, and some of them are even presented in video form.
Users will be presented with an audio ad every 15 minutes, and a video ad once per hour. Skipping six songs also automatically triggers an ad, in the current iOS 7 beta.