Gazelle announces price lock offer through Oct. 15 for iPhone trade-ins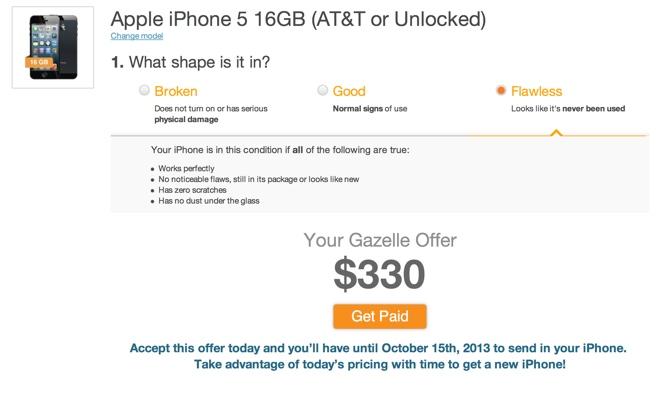 AppleInsider is supported by its audience and may earn commission as an Amazon Associate and affiliate partner on qualifying purchases. These affiliate partnerships do not influence our editorial content.
Customers looking to upgrade their iPhone this fall can now lock in a guaranteed trade-in price through Oct. 15 at Gazelle, ensuring they will receive the same amount after Apple's anticipated Sept. 10 product announcement.
Gazelle announced its new trade-in pricing guarantee on Monday, just a few weeks before Apple is expected to introduce its next-generation iPhones. As is usually the case, it's expected that the trade-in values of current iPhone models will drop once Apple announces its latest models, but customers can avoid any further price drops once the Sept. 10 event passes.
For example, owners of a 16-gigabyte AT&T iPhone 5 in "flawless" condition can lock in a payment of $330. And a 16-gigabyte Verizon iPhone 4S in perfect condition is worth $185.
Gazelle takes trade-ins on all iPhone models except for the first-generation version first released in 2007. The company also accepts models compatible with smaller U.S. networks Sprint and T-Mobile.
Factory unlocked iPhone models, which can be more easily used on a variety of carriers, are worth more. For example, a 16-gigabyte unlocked iPhone 4S has a trade-in value of $225.
Users simply complete the forms at Gazelle's website, and shipping materials will be sent for free. The customer must then send their old iPhone by Oct. 15 to receive the cash quoted.
"Our price lock promotion allows savvy consumers to maximize the value of their old iPhone and lets them wait until after the new iPhone is here to send in their old one," said Sarah Welch, chief marketing officer, Gazelle. "In many cases we pay enough to cover the full cost of upgrading to a new phone. We've been doing this quietly for years to help our customers get great value despite the potential challenges of getting their hands on a new iPhone in the early days of a launch, and we're delighted to extend the price lock program even further this year."
While the new price guarantee applies to iPhone trade-ins, Gazelle is also an option for users looking to resell their iPad. For example, customers can receive $250 for a 16-gigabyte fourth-generation Wi-Fi iPad in perfect condition.
Gazelle is one of a number of companies that offer trade-ins of used Apple gear, including iPhones, iPads and MacBooks. A more complete list of providers can be found in the official AppleInsider Trade-In Guide.