Prototype enclosures for Apple's 'iPhone 5C' apparently appearing on eBay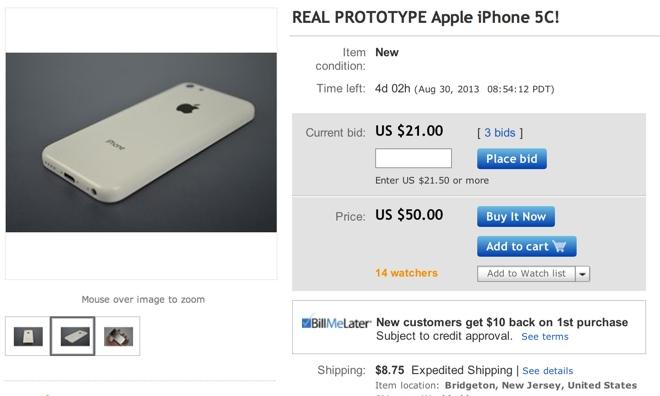 Ahead of the product's anticipated debut, prototype parts for Apple's so-called "iPhone 5C" have become so numerous, they're now available to purchase on eBay.
A new listing for a prototype "iPhone 5C" plastic back panel is currently available for sale on the auction website. The alleged Apple component has a "Buy It Now" price of $50, assuming the listing isn't pulled.
The part pictured on the site lacks the usual FCC and other regulatory logos underneath the iPhone product name. That suggests the part, if legitimate, may have been rejected in the manufacturing process.
Aside from the missing regulatory identifiers, the part appears to show all of the characteristics expected from Apple's new low-cost iPhone model. It features the Apple logo and iPhone name, space for speakers and a microphone, and a headphone jack and Lightning port on the bottom of the device.
Not shown in the accompanying pictures is the left side of the component, where the volume buttons and mute switch would traditionally be located. A picture of the front of the device shows that it is an empty shell, not a full-fledged prototype.
Parts claimed to be for Apple's "iPhone 5C" have been appearing online for months. The company is expected to formally introduce the device at a media event on Sept. 10, with an official product launch likely to occur on Friday, Sept. 20.
Well-connected analyst Ming-Chi Kuo of KGI Securities expects the "iPhone 5C" will feature many of the same components as the currently available iPhone 5. That, along with the low-cost plastic back, is expected to allow Apple to have the new model in steady supply at launch.
The part listed on eBay shows a white plastic back for the device, which is the same color as dozens of functional units that appeared to be going through some sort of testing process in a photo leaked over the weekend. In addition to white, the "iPhone 5C" is also expected to be available in blue, red, yellow and green.