Parallels Desktop 9 for Mac launches with cloud storage support, Windows 8 Start button, 40% faster read times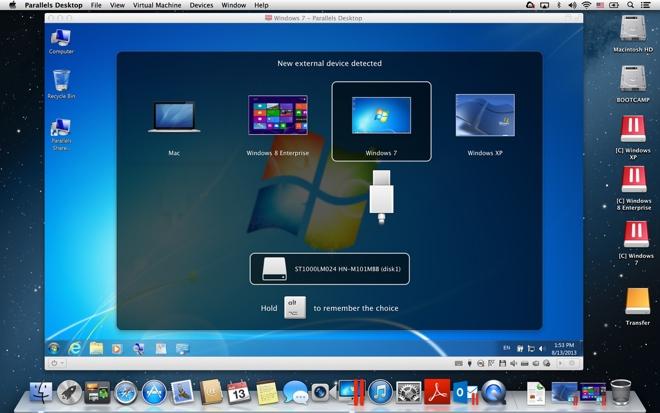 Existing Parallels users can now get their hands on Parallels Desktop 9 for Mac, the latest version of the virtualization software that lets Mac users run Windows applications natively, with new features such as cloud storage optimizations for iCloud, Dropbox, Google Drive and SkyDrive.
Parallels Desktop 9 for Mac also includes support for OS X Launchpad in Windows applications, and it enhances support for Apple's forthcoming OS X 10.9 Mavericks. For users of Windows 8, Parallels Desktop 9 also incorporates the familiar Start menu and Windows Start button.
Thursday's launch of Parallels Desktop 9 is available for existing customers for $49.99, while those who recently purchased may be eligible for a free upgrade. Customers who buy Parallels Desktop 8 today will also be eligible to upgrade to the new version at no additional charge.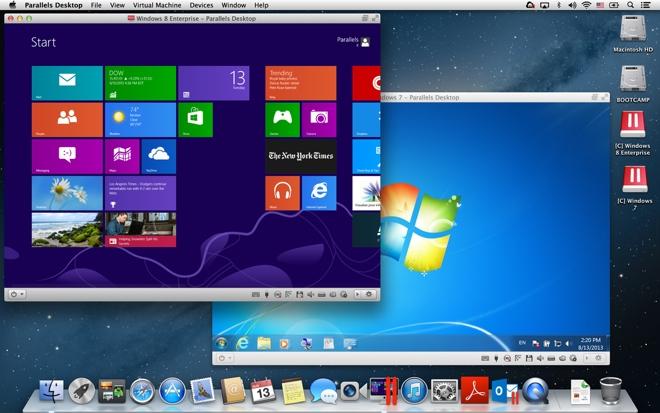 Parallels Desktop 9 extends the OS X PowerNap feature to Windows and Windows applications, and also allows Mountain Lion Dictionary gesture compatibility in Windows apps. It also allows users to connect Thunderbolt and FireWire devices to either their Mac or virtual machine, just like with USB.
The latest version of Parallels also enhances the virtual machine wizard, making it easier to create new systems by automatically locating operating systems on a Mac. Users can also manually select a range of media types to install.
Parallels Desktop 9 also packs a number of performance improvements according to its developer, such as:
40 percent better disk performance than the previous version
Virtual machines shut down up to 25 percent faster than the previous version
Virtual machines suspend up to 20 percent faster than the previous version
3D graphics and web browsing is 15 percent faster than the previous version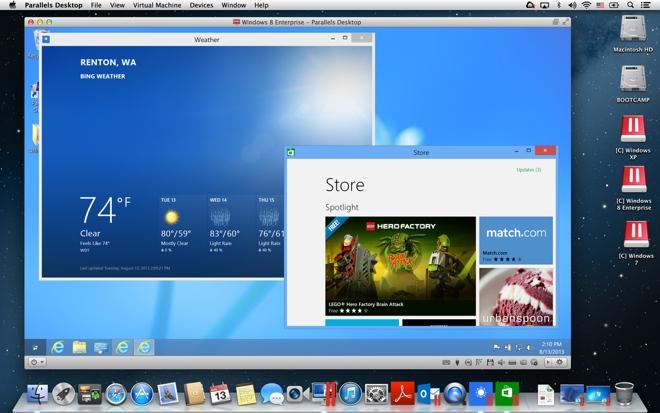 For cloud storage integration, Parallels Desktop 9 adds iCloud, Dropbox, Google Drive and SkyDrive optimizations that eliminate duplication of files locally.
And the new Parallels also aims to address issues with Microsoft's Windows 8 platform, adding a "real" Start menu, and the ability to run Metro applications in a separate window, rather than full screen.
A new Security Center in Parallels Desktop 9 is said to make it easier to ensure that files are secure, both on the Mac and in a Windows virtual machine. The new version supports both OS X 10.9 Mavericks and Windows 8.1.
In addition, Parallels Desktop 9 comes with a six-month subscription to Parallels Access for iPad, announced earlier this week. That new software allows customers to remotely access and experience Windows and Mac applications as if they were designed for Apple's iPad.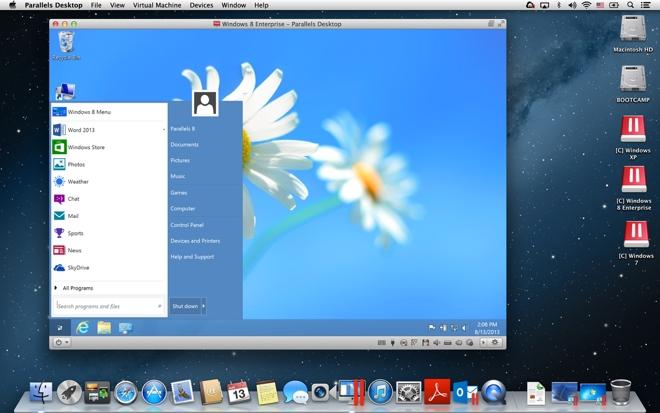 Other features highlighted by Parallels include:
Mac gestures inside Windows apps: Parallels Desktop now includes the addition of the Dictionary lookup gesture in Windows applications
PDF printer for Windows: Lets people print from any Windows application to a PDF on the Mac desktop, even if the application doesn't have that functionality
Sticky multi-monitor setup: When using Windows in Full Screen mode and connecting to an external monitor, Parallels Desktop will remember settings and put the Windows virtual machine back in full screen mode on the remote monitor
Custom keyboard: Editable keyboard shortcuts help customize the Windows experience
Linux guest integration: Parallels Desktop customers who use Linux now have additional and enhanced integration with the Mac OS
"Parallels Desktop 9 for Mac customers will enjoy peace of mind knowing that Parallels keeps pace with and supports leading new technologies, such as the upcoming OS X Mavericks, Windows 8.1 and increasingly popular cloud services," said Parallels CEO Birger Steen. "We thank our customers for appreciating our innovations and making Parallels Desktop for Mac the No. 1-selling software for running Windows on a Mac for seven years and counting."
Parallels Desktop 9 for Mac will become broadly available for purchase next Thursday, Sept. 5. It is now available as a $50 upgrade for legacy Parallels users, and a free upgrade for those who recently bought Parallels Desktop 8.