First look: Sony's iPhone-compatible QX10 and QX100 Cyber-shot lenses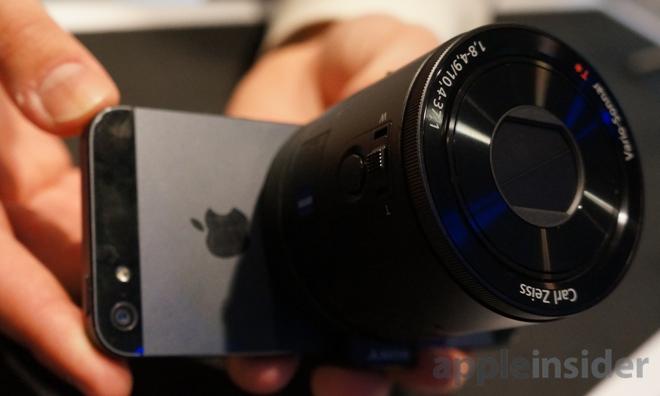 AppleInsider may earn an affiliate commission on purchases made through links on our site.
Sony held an event in New York on Wednesday to give members of the press their first hands-on with its new iPhone-compatible QX10 and QX100 high-quality camera lenses. AppleInsider was on-hand for a first look at the new accessories.
The QX10 and QX100 were officially unveiled in a presentation by Phil Molyneux, president and chief operating officer with Sony. Both devices are set to launch later this month, and are available to preorder now through Sony's online store, Amazon and other authorized resellers.
Both are wireless cameras that lack extensive controls or even a dedicated screen or viewfinder. Instead, those duties are relegated to a smartphone that is connected to the device over peer-to-peer Wi-Fi.
Both cameras are compatible with Apple's iPhone when running the latest version of Sony's PlayMemories Mobile application, available for free on the iOS App Store. The cameras will also work with an iPad, if users want an exceptionally large viewfinder.
Both the QX10 and QX100 will ship with an expandable, secure clip that's compatible with a range of smartphones. Using this, the lens can be attached to the back of an iPhone, and together the units will work in tandem as a high-end camera.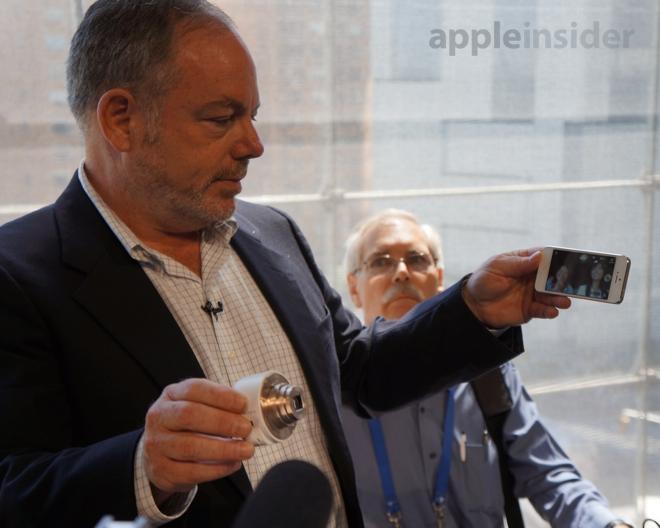 Hands-on
The camera lens clips easily and securely to an iPhone. We tried picking the device up by both the phone and the lens, and did not come away with the impression that either device would be easily dropped.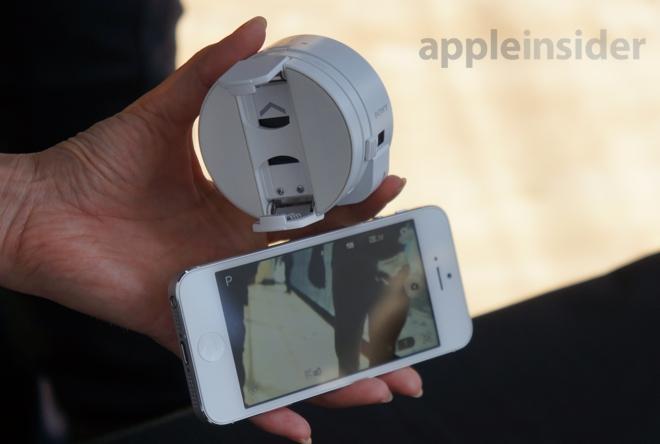 Connecting the iPhone to a lens was relatively simple through Sony's app. We did experience a few random disconnects, but this could have been due to the fact that numerous members of the press were on-hand attempting to connect their own smartphones to the devices.
Each QX-series camera is securely connected through a unique password that can be found printed in the accessory's battery compartment. The lenses will also use Sony's standard camera batteries.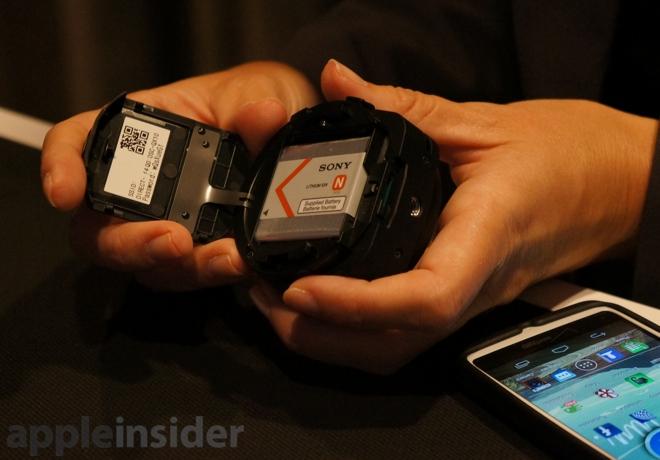 The low-end QX10 will come in both black and white colors. One demo unit provided by Sony paired a white QX10 with a white iPhone, and the two matched each other quite well.
Once the camera is paired, the official Sony application can be used to snap pictures. Pictures can be stored on both a microSD card found within the lens itself, as well as automatically transferred to the iPhone. High- and low-quality transfer options are available to conserve storage on the connected smartphone.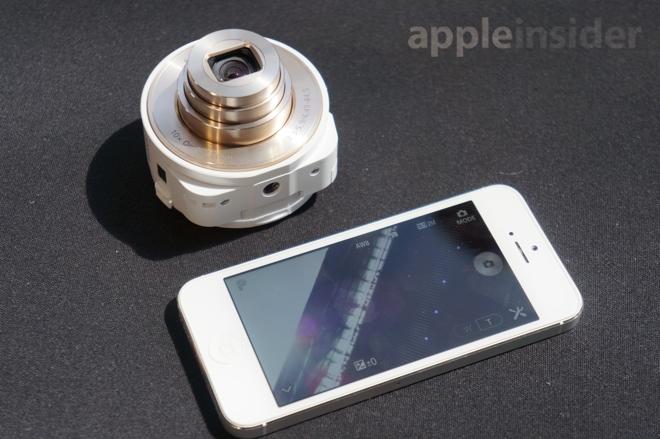 The peer-to-peer Wi-Fi connection between the iPhone and QX10 allowed for minimal lag between devices when viewing the camera's perspective live. We didn't come away with the impression that the wireless connectivity would cause any issue when snapping pictures.
Things were a bit slower when automatically transferring photos to the iPhone. Given the size of the lenses on the QX10 and QX100, transferring a full-size image over Wi-Fi direct to the iPhone took a few seconds. Users looking to rapid-fire photos may want to turn off the auto-transfer functionality.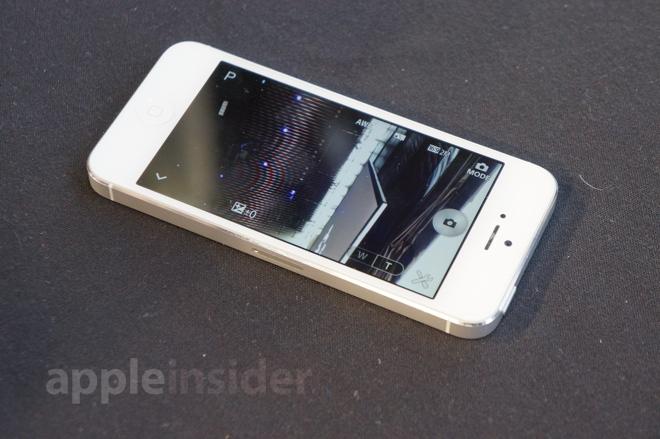 The wireless connectivity of the QX10 and QX100 is also important, because it allows the cameras to be controlled and viewed remotely from a smartphone. Each camera includes a tripod mount on the bottom for remote sturdy placement. However, Sony cautioned that the cameras are not intended to be used a great distance from a Wi-Fi-connected device.
Sony has pitched the QX10 and QX100 as "game changing" accessories that will appeal to consumers who want high-end pictures, but are more comfortable snapping pictures on their smartphone. We tend to agree: The pure pocket-ability of these accessories makes them an appealing option for someone who wants to conveniently snap pictures on the go, but may not have the space to carry a DSLR or even a compact digital camera on them.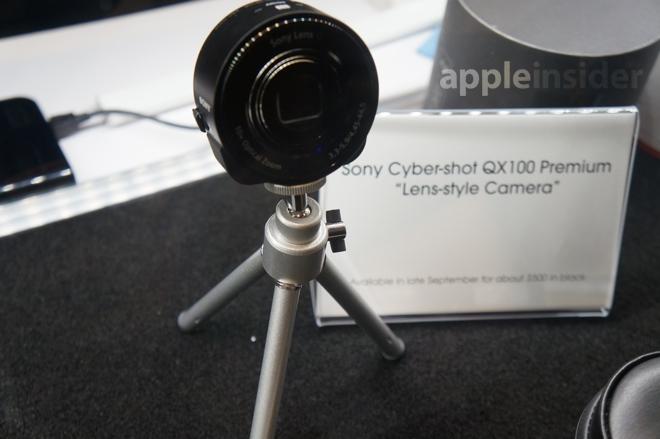 Tech specs
The QX series cameras leverage Sony's existing heft in imaging into attachments that make a smartphone capable of capturing images in the quality range of a higher-end dedicated point-and-shoot device. They both connect wirelessly to a smartphone through Sony's PlayMemories Mobile app, available in the App Store for free. That app allows the smartphone to serve as the viewfinder for the camera, which can be used while attached to the phone or remotely. The smartphone can release the shutter, start and stop movie recordings, and adjust common photographic settings such as shooting mode, zoom, and autofocus area.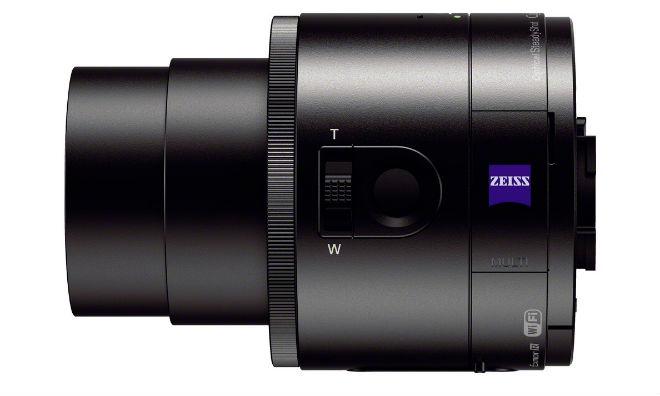 On iOS, the QX series cameras will pair with devices through Wi-Fi, and images taken will be stored both on the lens camera's internal memory and on the paired device. Android users will have the option of pairing the devices by touch using near-field communications technology.
The QX100 features a 1.0-inch, 20.2MP Exmor RCMOS sensor, the same one featured in Sony's acclaimed Cyber-shot RX100 II. Sony has paired that sensor with a fast, wide-aperture Carl Zeiss Vario-Sonnar T lens with 3.6x optical zoom and a Bionz image processor. It also has its own dedicated control ring for camera adjustment.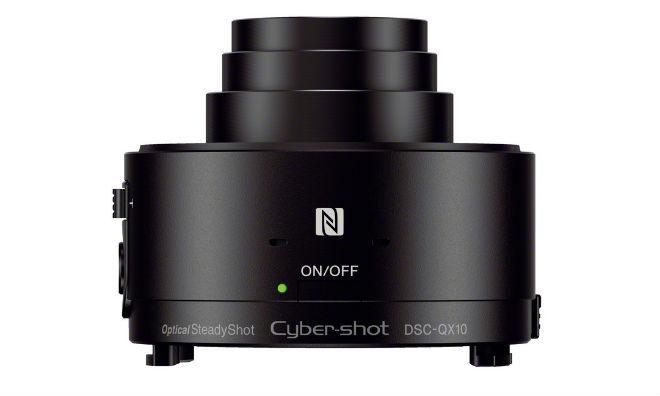 The Qx10 model packs an 18.2MP Exmor RCMOS sensor and 10x optical zoom Sony G Lens. It also features built-in Optical SteadyShot image stabilization, as well as a number of shooting modes to choose from, including Program, Auto, Intelligent Auto, and Superior Auto.
Both devices will become available later this month from Sony. Customers can also preorder both from Amazon right now, though. The QX100 retails for $498, while the QX10 will sell for $248. Both items will see release on September 27 and should ship from Amazon thereupon or shortly thereafter.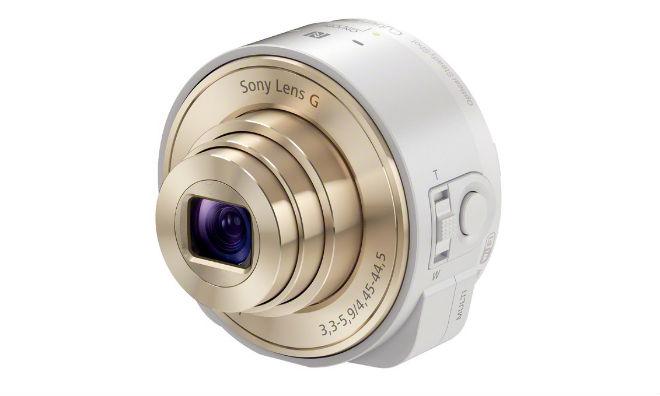 Other announcements
In addition to the iPhone-compatible Cyber-shot lenses, Sony also announced a number of other new cameras at Wednesday's event. They include: