Apple's iPhone 5s and 5c support China Mobile TD-LTE bands, suggest unannounced partnership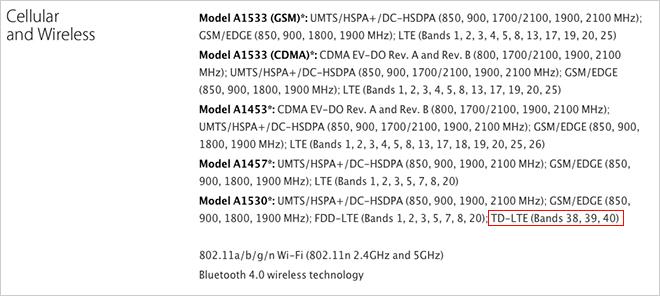 While not announced during Apple's iPhone media event on Tuesday, the latest iPhone 5s and iPhone 5c are both compatible with TD-LTE bands used by China Mobile, hinting at a future deal with the world's largest cellular carrier.
According to the respective official technical specifications webpages for the iPhone 5s and iPhone 5c, the devices will work on TD-LTE networks, a somewhat rare flavor of 4G used by China Mobile.
Although Apple does not yet list China as one of the countries supported by the LTE-capable iPhones, tech specs for the iPhone 5s model A1530 and iPhone 5c model A1529 note support for TD-LTE. Of the few providers using the 4G technology, China Mobile is the largest by far, though the telecom has not yet finished building out the advanced network.
There has been no official word that Apple and China Mobile reached an agreement, though analyst Ming-Chi Kuo noted last week that the telecom may postpone such an announcement until the network rollout is complete. He believes the iPhone 5s will be used to promote China Mobile's new TD-LTE capabilities and expects a launch by November.
An Apple tie up with China Mobile has long been rumored, though the two companies were reportedly not able to reach agreements in recent high level meetings. According to one report, a China Mobile deal, along with the recently announced NTT DoCoMo arrangement,could drive an additional 35 million iPhones sales in 2014.
Apple will release multiple iPhone 5s and 5c versions with different baseband chips to support its various partner carriers. In the U.S., one model of each phone will cover AT&T, Verizon and T-Mobile, while a variant is set to operate on Sprint's network. The latter model will also work with networks run by Japanese carriers Softbank and KDDI.