Hands-on with the new iPhone 5c & color cases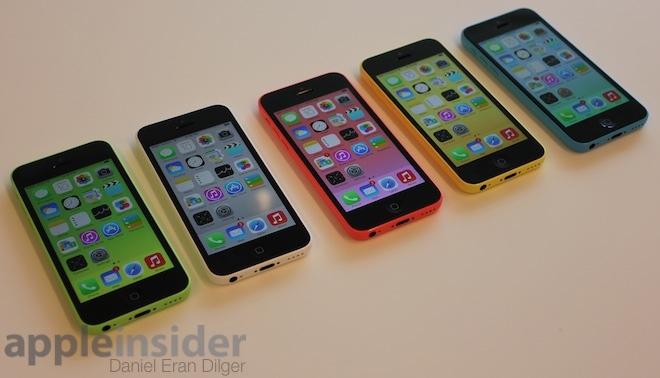 Apple's colorful new iPhone 5c is designed to upgrade existing smartphone users into the A6-class iPhone 5 world, while introducing bright mix-and-match colors borrowed from the iPod mainstream. However, predictions that iPhone 5c would serve a "cheap" or "lite" role were proven wrong.
iPhone 5 begets two successors
After years of releasing one new iPhone model each year and continuing to sell one or two previous generation models at lower prices, Apple has now released two new models, both of which take the company's existing flagship iPhone 5 in new directions.
The iPhone 5c has nearly identical specs to what has been Apple's high-end model, but it adds greater battery capacity and support for more LTE bands (including China Mobile's TD-LTE), resulting in a more capable version of what has been the world's most popular smartphone, albeit now $100 less.
While there were three model variants of iPhone 5 (A1428 North American GSM; A1429 CDMA & Global GSM; and A1442 for China Telecom CDMA with UIM/WAPI but no LTE support) there are four versions of iPhone 5c (A1532 North American GSM/CDMA for both ATT & Verizon; A1456 Sprint/Japan CDMA with additional support for LTE bands 18&26; A1507 for Europe lacking LTE bands 4/AWS, 13, 17, 18, 19, 26 but adding 7; A1529 for Asia/Pacific, identical to Europe but adding support for China Mobile's TD-LTE bands 38, 39 and 40, which is also used in Australia).
The iPhone 5s, considered separately, takes the iPhone 5 into a luxury class, with a world leading 64-bit architecture, new fingerprint security and advanced, efficient M7 motion processing, all at the same price as last year's iPhone 5.
Both models also now include $40 worth of first party, chart topping apps exclusive to iOS: Pages, Keynote, Numbers, iPhoto and iMovie.
iPhone 5c is Colors
Color has long been a defining feature of Apple's iPod lineup, but the company has until now kept its iPhones limited to black and white models. In making its high-end iPhone 5 a new mass market option, Apple has made color a primary feature.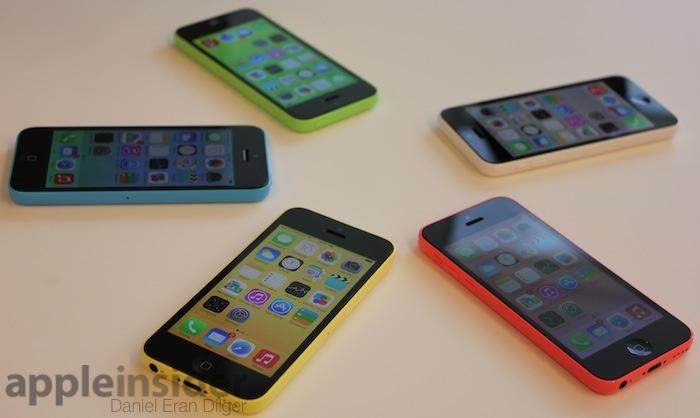 Color plays into the iPhone 5c's design and build, and is even referenced in its marketing, where swirls of lustrous, liquid paint take the form of the device, now available in a shiny, bright array of white, pink, yellow, blue and green editions.
While it shouldn't be a surprise, it's clear the iPhone 5c's colors are designed to reflect the color palette of iOS 7. Apple even sets up new iPhone 5c phones with a background that matches the shell color.
The new iPhone 5c model has a more squared off back than the iPhone 5, and replaces its all metal body with a case foundation made from what Apple's chief designer Jony Ive described as "beautifully, unapologetically plastic."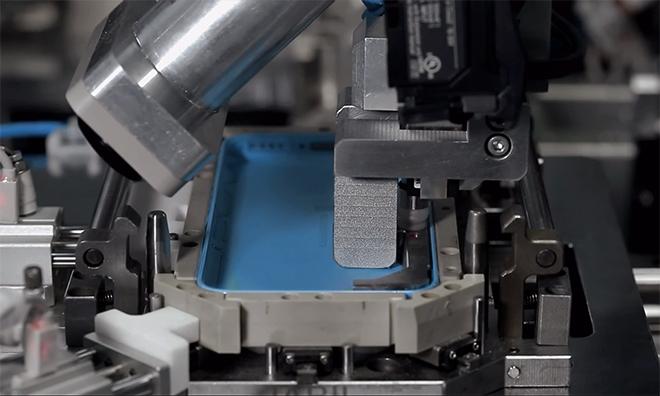 Apple developed a new construction method (above, detailed previously) for the iPhone 5c that attaches a steel reinforced substructure to a hard-coated polycarbonate shell Ive referred to as a "bespoke assembly," using a British English term that usually refers to custom tailored clothing.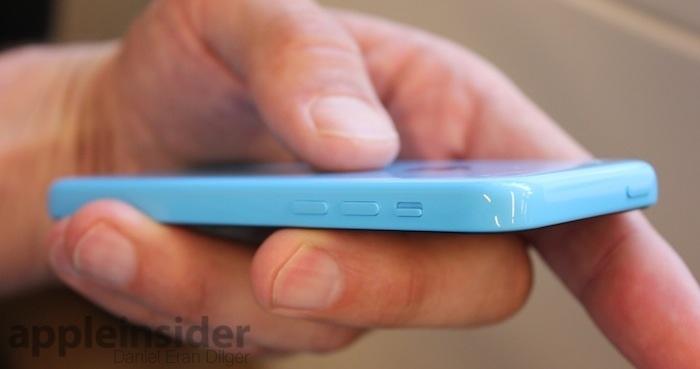 The result is a device that feels solid and substantial, a marked contrast from Apple's second and third generation iPhone 3G/3GS, both of which achieved lower retail prices through a more conventional plastic shell case design more akin to the designs Samsung now uses on its most expensive flagship phones.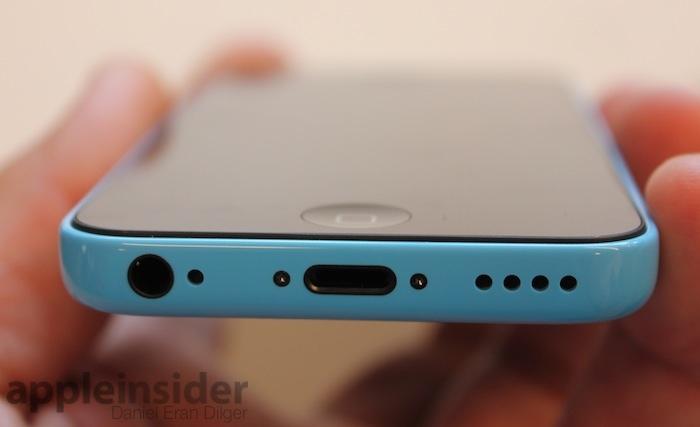 Rather than feeling "plasticky," the new iPhone 5c has a rubberized feel and rigid body, without the cheap flex or warp of common devices made of plastic. The backing is also treated to give it a shiny gloss, which further enhances the brilliant colors it's available in.
The new model's back has a ruggedized feel that appears much more likely to survive a fall unscathed than the glass back introduced on the iPhone 4 or the crack-prone, thin plastic shell of the iPhone 3G/3GS. The face of the iPhone 5c is still glass of course (Corning's Gorilla Glass), but being wrapped in a plastic shell should help to mitigate its fragility.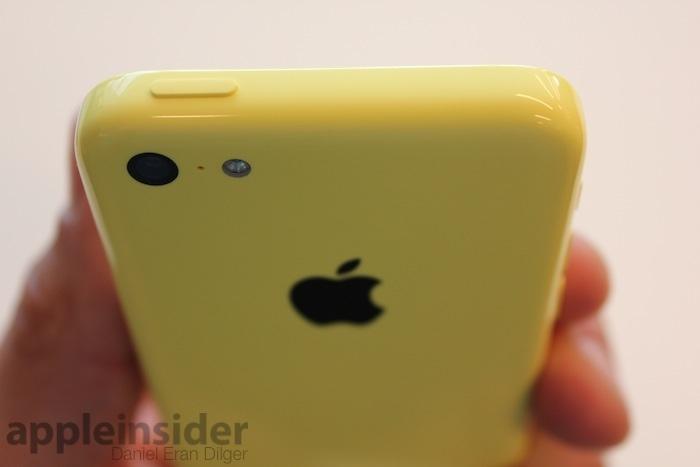 The lock switch, power and volume buttons on the iPhone 5c are color matched with the body color, and feel as solid and precise as the previous iPhone 5, which used metal components. There's really nothing "cheap" about the 5C. A more conservative Apple could have released this model by itself as the incremental upgrade for last year's iPhone 5.
iPhone 5c cases
Apple is further playing up the iPhone 5c's colors by offering contrasting protective cases in a variety of colors for $29 each. Each presents an iconic patterns of circular cutouts that show the underlying case color.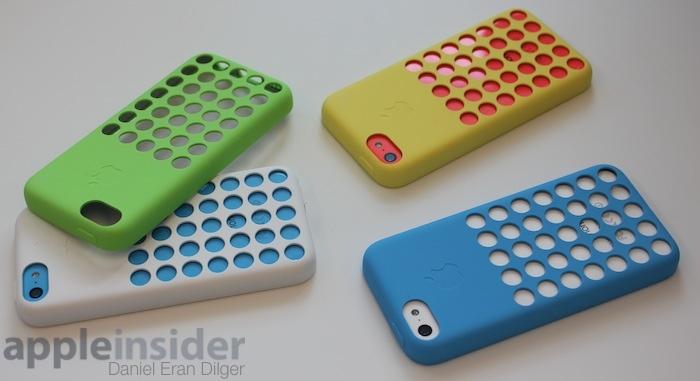 While the device has a shiny finish, the silicon cases have a rubberized matte finish, providing additional contrast between them. The interior of the cases is a soft felt-like "microfiber" material (visible below) designed to avoid scuffing or scratching the shiny body of the phone. Apple expects many users will buy multiple cases to accessorize the color of their device. With 5 device colors and 6 case colors, there are 30 potential color combinations.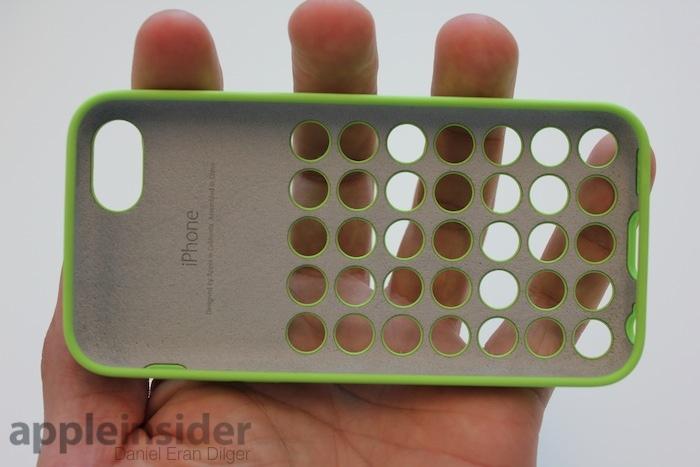 The new cases can also be wrapped around the existing iPhone 5, but are not designed for this purpose. When I tried it on mine, the case fit snuggly enough (actually making it tricky to get off), but the buttons still worked and the case didn't obscure the ports or speakers (below).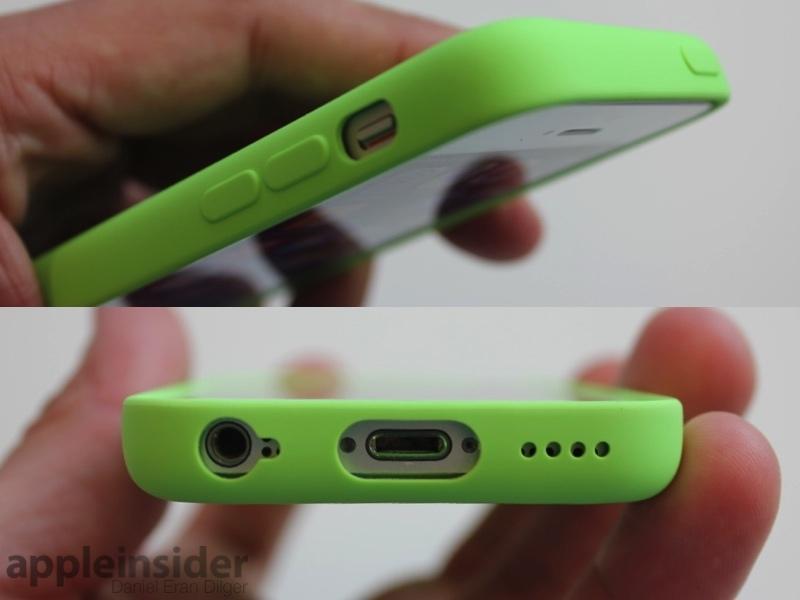 C in iPhone 5c is not for Cheap
Virtually everyone incorrectly predicted that the iPhone 5c would predominantly be "cheap," but the new model is not Apple's cheapest. It's also not a low-end phone. Apart from Apple's own higher-end new iPhone 5s, it rivals the specs of top smartphones globally, from its fast processor to highly rated camera. There's nothing cheap or low-end about it.
Rather than being cheap, Apple describes the iPhone 5c as having the same A6-powered "blazing-fast performance" and "console-level graphics" as iPhone 5, with the added advantage of a higher capacity battery.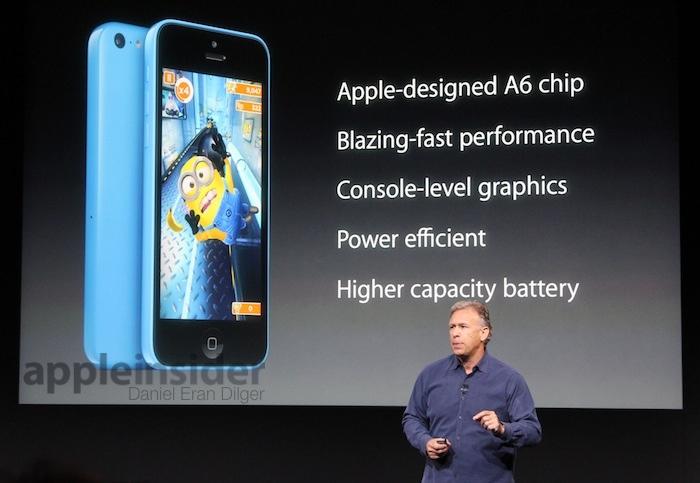 The company will continue selling 2012's most popular model, the iPhone 4S, now for $100 less as the new entry-level model, replacing iPhone 4. Additionally, Apple is also continuing to sell iPhone 4 in China (priced at $423) and in some other emerging markets, providing twice the "low-end" option range than Apple has ever offered anywhere before.
Wall Street hasn't yet realized this, which is reflected in the panicked fretting about the iPhone 5c not being "cheap enough." Outside of China and the other markets offering iPhone 4, Apple's entire iPhone product lineup this holiday season will all sport Apple's Siri voice assistant and dictation service, 3D Flyover Maps, Panorama capture and Bluetooth 4.0, features absent from the iPhone 4.
As the new entry-level model for most markets, the iPhone 4S doesn't have the iPhone 5's taller 4" display, support for the fastest 4G networks (including LTE, HSPA+ and DC-HSDPA) or 5GHz WiFi. It also has a much simpler VGA front facing "FaceTime" camera and still uses the older 30-pin "Dock Connector" port. It is however a significantly nicer entry-level phone than 2010's iPhone 4, with all the features of the previous paragraph and a significantly improved camera.
This effectively positions iPhone 4S as Apple's primary competitor to middle-tier Android phones, which make up the majority of Android's sales. However, Apple's low-end 4 and 4S will still run the company's latest iOS 7, a huge differentiator from the majority of middle tier and low-end Android devices.
Many "new" Android devices are stuck running an old version of Google's platform from as early as 2010, software that most users can't upgrade on their own and which most Android licensees and carriers have demonstrated no interest in upgrading, despite serious security vulnerabilities and feature omissions.
Being able to run iOS 7 means the spectrum of iPhone 5c models are the mainstream of Apple's iPhone offerings, reflected in the fact that the iPhone 5c is currently the landing page product for Apple.com. In positioning iPhone 5c as a fun, colorful option, Apple is also clearly differentiating it from the new iPhone 5s, which for just $100 more offers a more upscale metallic finish, along with substantial security, camera and performance features.