Amazon Instant Video for iOS adds support for Apple's AirPlay [u]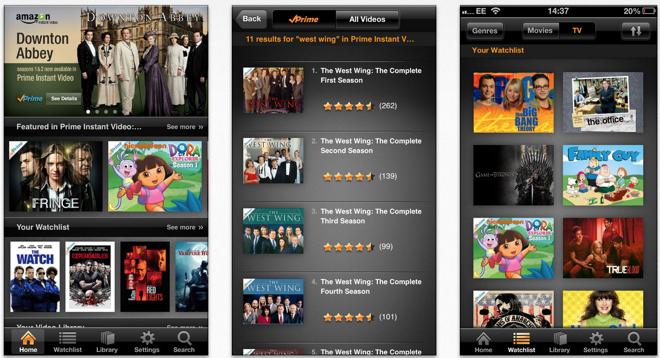 Amazon on Tuesday updated its Instant Video application for Apple's iOS with a number of new features, most notably supporting the AirPlay standard for wireless streaming to an Apple TV set-top box [updated].
The official Amazon Instant Video app allows customers who buy video content from the online retailer to view movies and television episodes. It also enables Amazon customers access more than 150,000 videos available for rent or purchase.
In addition, more than 40,000 titles are available to Amazon Prime subscribers at no additional cost.
Version 2.1 of Amazon Instant Video adds the ability AirPlay stream content to Apple TV. Other features included in the update are:
IMDB cast and director information, ratings, goofs, trivia and quotes
Read customer reviews
Find other videos featuring cast or director
Customers who watched this also watched…
Concurrent downloads
Improved offline experience
Faster and more responsive interface
Bug fixes and stability improvements
With Amazon Instant Video, purchased or rented videos can be downloaded for offline viewing. Content is also synced through Amazon's Whispersync feature, allowing users to pick up where they left off on another device.
Amazon Instant Video first debuted on Apple's iPad in August of 2012, when Prime subscribers had access to just 20,000 titles — half of what is available today. Support for the iPhone and iPod touch eventually came last December.