iOS 7 feature focus: AirDrop simplifies speedy local file transfer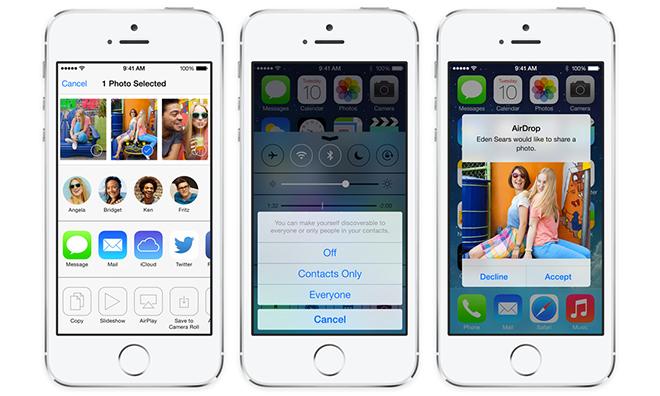 With AirDrop, Apple has implemented a useful, robust and simple file sharing feature that has, until iOS 7, been largely the domain of third-party apps.
Editor's Note: This is the first in a series of features focusing on iOS 7's new and notable features. AppleInsider will be publishing additional articles highlighting brand new additions such as App Store auto-updates and individual caller blocking, as well as enhancements like the revised Camera app.
As one of the highlights of iOS 7, AirDrop brings "no setup" file sharing functionality first seen in OS X to Apple's mobile platform, offering users an easy and seamless way to transfer digital assets between compatible devices. Importantly, the protocol uses a hybrid Bluetooth and Wi-Fi communications solution that provides for both speed and security.
Like many Apple inventions, AirDrop streamlines a process already in wide use, in this case file sharing. Previously, iOS users had to swap photos, video, and other data via email, iMessage or apps that supported larger file transfers. Adoption of AirDrop may make these workarounds a thing of the past.
The technology
It should be understood that AirDrop is a proximity-limited technology, meaning that it will only work when two or more users are near each other. This is illustrated by the requirement that a compatible device, which will be limited to the iPhone 5 or later, fourth-generation iPad, iPad mini, and fifth-generation iPod touch, have both Bluetooth and Wi-Fi enabled.
When AirDrop is activated, it uses Bluetooth to scan for nearby devices that are advertising discoverability. User can elect to be seen by everyone, only by contact, or not at all if the feature is turned off.
Once a connection is established via Bluetooth, an ad-hoc Wi-Fi network is created to link the two devices together, allowing for faster transfer speeds. Basically, Bluetooth is used for discovery and token setup, while the more robust Wi-Fi protocol is leveraged for transfers.
Rooted in patents
At least some of Apple's AirDrop technology has its root in patents previously covered by AppleInsider, including a filing for a proximity-based solution that automatically transfers media when a nearby device is identified.
More recently, Apple was awarded a patent for an NFC-based cross-platform data transfer system very similar to AirDrop. Instead of using Bluetooth to initiate the device handshake and authentication, the patent relied on near field communications. Like AirDrop, however, the end result is the creation of an ad-hoc wireless network over which files can be transferred.
The process
As with any iOS feature, AirDrop has been simplified with every day users in mind. Once a picture, video, or other sharable asset is selected, it takes only two steps to send the file to a waiting friend's device.
As seen above, we selected a video file to move from an iPad mini to an iPhone 5. Tapping on the "share" icon at the bottom left of the screen brings up the sharing interface, which is split into four rows: content to be shared, AirDrop, share-to apps like iMessage or Mail, and remote media options like AirPlay.
With AirDrop, users only need to be concerned with the top two rows. Since we selected a video from the Photos app, other images and clips appear alongside as scrollable thumbnails. Users can choose from other photos in a library and send multiple files in a single AirDrop session. Each selected picture is ticked with a blue checkmark.
Sending involves a simple tap on another user's iCloud avatar, which should pop up in the AirDrop row directly below the selected content when a device is in range. If the default AirDrop instruction graphic appears instead, it either means the other device is not configured correctly, is out of range, or is not discoverable.
As previously noted, the recipient device must be awake, have AirDrop activated and both Bluetooth and Wi-Fi switched on. If a sender's information is not entered into the receiving device's contacts list, "Everyone" must be selected in the AirDrop settings menu, which can be accessed from Control Center.
On the receiving end, a pop-up pane will appear notifying the user that a friend is attempting to share a file. This window will, in most cases, have a preview of the image or video being sent and options to accept or decline. Refusing a transfer will cause a red "Declined" message to appear under a on the sender's device, while accepting will show the text "Sent" in blue.
Results
In our testing, AirDrop worked flawlessly. Wireless connectivity was solid and we encountered no errors or problems shooting files back and forth. Transfer speeds were fast thanks to the peer-to-peer Wi-Fi connection, and connecting to other devices was seamless. It should be noted, however, that the implementation is currently limited to first-party apps like Photos and Contacts and a few third-party titles that pushed out updates after iOS 7 was released.
Obviously, the usefulness of AirDrop depends largely on how iPhone, iPad and iPod owners share and manage their stored content. Some choose to email or send iMessages, while others like syncing to cloud services.
Despite being an iOS 7 feature, AirDrop is only compatible with Apple's latest devices, as previously mentioned. In addition, it will be up to developers to implement the sharing service into their software, though integration could theoretically support almost any type of file as long as both devices have the same app.
Use cases may be limited at this time, but Apple has paved a way for developers to integrate fast and easy file sharing at the system level, meaning one embedded solution can be called upon to handle all transfers.
Perhaps more importantly, AirDrop for iOS lays down the groundwork for future projects. It is not out of the realm of possibility that a cross-platform version of AirDrop may be in the works, especially given a nearly identical feature bearing the same name first landed on OS X.