iOS 7 feature focus: App Store auto-updates and iTunes Radio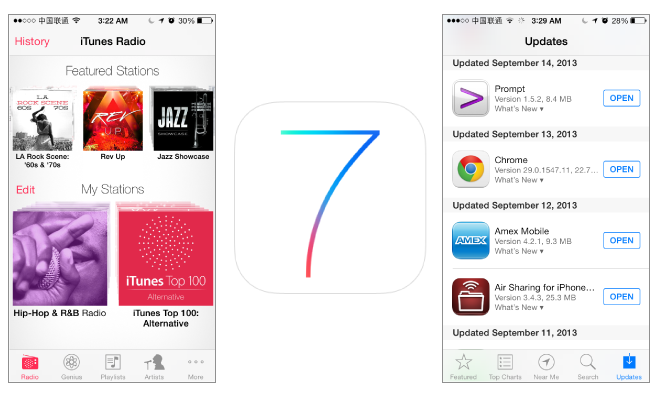 AppleInsider may earn an affiliate commission on purchases made through links on our site.
iOS 7 brings several new features, among them the long-anticipated streaming music service iTunes Radio and automatic app updates from the App Store.
iTunes Radio
Seemingly since the day Steve Jobs unveiled the iTunes Music Store to complement Apple's then-nascent iPod in 2003, there have been rumblings that the company would make the leap from music sales to subscription-based music streaming.
Even as the iTunes store grew to become the largest music retailer in the world, the success of streaming companies like Pandora, Spotify, and rdio, alongside industry newcomer Google, led customers and analysts to voice their desire for Cupertino to put its "Designed by Apple in California" spin on the concept. Finally, with iOS 7 and the release of iTunes Radio, Apple has answered the call.
Rather than searching for and streaming specific songs, iTunes Radio leverages the massive iTunes music library by allowing users to create customized streaming playlists based on individual songs, artists, or genres. Alternatively, users can choose to listen to one of the "more than 300 DJ-curated and genre-focused stations" that are shipped as presets.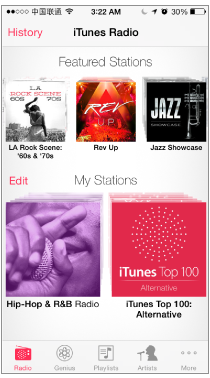 iTunes Radio is part of the Music app in iOS 7, gaining its own dedicated tab alongside Genius, Playlists, and Artists. The app's home screen is typically spartan, consisting of two rows of station icons — one row each for preset and user-created stations — and a large "New Station" button. Station icons appear as a stack of cover art and react with a slight inward accordion motion when tapped, in line with iOS 7's other user experience changes designed to bring a sense of depth and vertical order to the OS.
Preset stations appear in a horizontally-scrolling selector below the app's navigation bar — to begin listening to a station, simply tap its icon. For genre-based presets, songs will begin playing immediately; however, DJ-curated stations begin with an unskippable introductory track. Some are just a few seconds long, while others — like the station curated by 30 Seconds to Mars' Jared Leto — are more than one minute long. The unskippable tracks also recur at random intervals during the stream, though it is unclear at this point whether or not these interstitial tracks are simply advertising placeholders.
Creating a new station is as easy as tapping the "New Station" button and choosing what criteria to use. A search box is provided for users to create bespoke stations based on a specific artist, song or genre. Alternatively, users can scroll through a pre-populated list of popular genres and select one, which will in turn display a list of preset stations. Tapping on a station begins to play a sample, and the user can then add the station to their iTunes Radio home screen by tapping the "+" button to the right.
iTunes Radio learns as you listen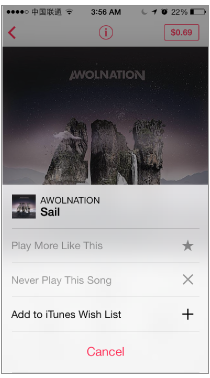 Apple touts iTunes Radio's ability to learn from users' actions and hone in on their musical tastes — stations "evolve based on the music you play and download."
While listening to a station, users can tap the "★" button near the playback controls to give feedback on the current track. Users can tell iTunes Radio to "Play more [songs] like this" or to "Never play this song." Additionally, users can add the track to their iTunes wishlist. iTunes Radio will note the selection and tailor future song selections to the user's preferences. Functionally, these options are similar to Pandora's "thumbs up / thumbs down" paradigm.
Though the inner workings of iTunes Radio's personalization engine are unknown, it is likely that other user actions, like skipping a track, are also taken into consideration. It should be noted that users can only skip a limited number of tracks in each station during a given period of time - during testing, the limit seemed to be six tracks per station, though final details have not been made public.
Apple also hints that songs purchased in the iTunes store or stored in a user's iTunes Match account will aid in personalization, saying that "iTunes Radio can use your entire music collection to make your stations even more personalized." Songs can be purchased directly from the iTunes Radio app with a single tap.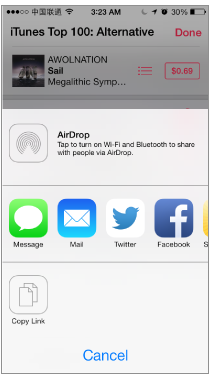 Apple's marketing efforts around iTunes, the iPod, and the iPhone have long centered around the idea of music as a shared social experience, so it is no surprise that the company makes it easy for users to share their iTunes Radio stations with others. A tap of the circular "info" button at the top of the currently-playing track reveals an overlay with a link to iOS's system-wide sharing sheet, where the user can select from the usual choices — social media, email, iMessage/SMS, and AirDrop.
The recipient receives a "dynamic" link to the station — that is, the station will continue to evolve and reflect the sender's input.
Siri has finally shed its "Beta" label in iOS 7 and one of the digital personal assistant's newest features is tight integration with iTunes Radio. In addition to the standard playback controls, users can ask Siri to play an existing station, create a new station, and give personalization feedback.
iTunes Radio is not only available on iOS 7. iTunes and Apple TV will also be updated with support for the new service, and all user data is stored and synchronized by Apple's iCloud. Users can play and pausing a station on one device, then pick it up on a different device — for example, a user can listen to a station on their iPhone while exercising outside, then pick the station up on their Apple TV when they return home.
Owners of any supported Apple device can listen to an ad-supported version of iTunes Radio free of charge. Apple has worked to expand its internal iAd product to support audio and video ads within iTunes Radio, and well-known brands like McDonald's and Pepsi have signed on as launch sponsors. Users with an active iTunes Match account will receive the service ad-free.
Finally, parents can continue to use Apple's parental restriction settings to disable explicit tracks in iTunes Radio just as they currently do for the iTunes Store. Explicit tracks can also be enabled or disabled on a per-station basis.
App Store Auto-Updates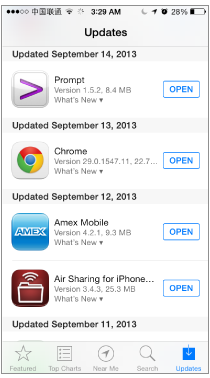 As the number of third-party applications on mobile devices grows, managing updates has become a chore for users, especially with the near-daily pace of updates to some apps. Even U.S. Senators feel the pain — during a senate hearing on corporate tax avoidance, Arizona Senator John McCain famously grilled Apple CEO Tim Cook on the update issue, asking "why the hell do I have to keep updating my apps on my iPhone all the time and why don't you fix that?"
In iOS 7, Apple has "fixed that" by allowing App Store apps to automatically update themselves.
After a user begins using iOS 7, whether by upgrading their existing device or buying a new one, the first available app update will trigger a dialog box asking the user if they would like to enable automatic updates. If enabled, apps will update quietly in the background; if disabled, users will need to update apps manually as in previous iOS releases.
Automatic updates can be enabled or disabled at any time in the "iTunes & App Store" settings dialog by moving the slider next to "Updates" under the "Automatic Downloads" section.
The feature may also be a boon for developers, helping to migrate users to apps' latest versions more quickly, thereby allowing developers to focus their attention and resources on a smaller target.
For more information on Apple's latest mobile operating system, visit AppleInsider's ongoing iOS 7 Feature Focus series. Other topics include in-depth looks at AirDrop, blocking individual cell numbers and the revamped Camera app, among others.