Apple's iOS 7 now accounts for 52 percent of iOS Web share one week after launch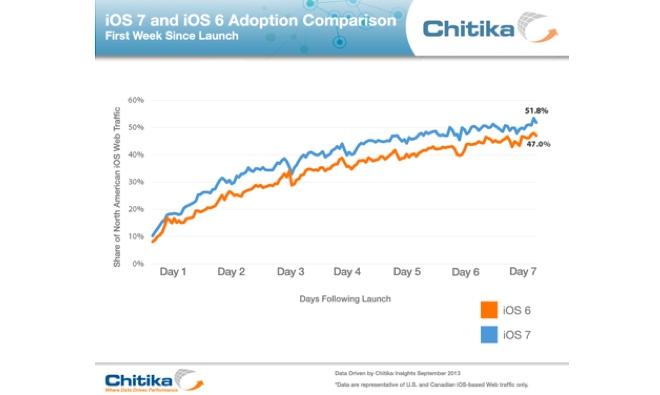 The newest version of iOS is off to a roaring start, with iOS 7 now accounting for more than half of iOS Web traffic across North America, according to one study.
Fifty-one percent of traffic from devices running iOS in the United States and Canada now come from iOS 7 iPhones, iPads, and iPods, according to the latest figures from Chitika's online advertising network. That is a leap of 20 percentage points in the five days since the firm's last report.
Just 24 hours after iOS 7 launched, Chitika measured North American installs at just over 18 percent of the base market. Within another 24 hours, that estimate had climbed to 32 percent.
Install growth for the new operating system has outpaced that of its predecessor, iOS 6, which took about three days to pass the 30 percent mark. By February of this year, that figure had grown to 83 percent.
Apple's latest iOS can run on iPhones all the way back to the three-year-old iPhone 4, though neither that device nor the two-year-old iPhone 4S support all of the platform's new features. It also runs on the fifth-generation iPod touch and on iPads back to the iPad 2.
Chitika's findings are in keeping with the prediction Apple made earlier in September when revealing the new iPhone 5c and 5s. Touting the approaching 700 million mark for the total number of iOS devices sold worldwide, Apple CEO Tim Cook noted that iOS 7 would become the most popular operating system in the world "virtually overnight."