Apple's iOS 6 now accounts for 83% of all iOS-based traffic in North America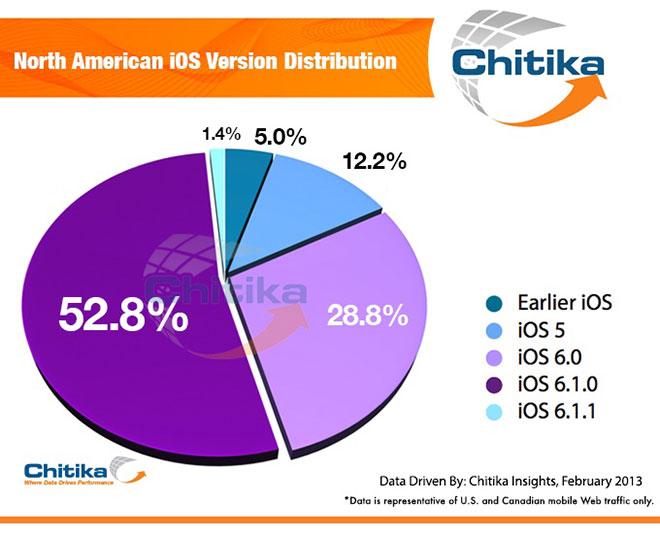 Just days after Apple released iOS 6.1.1, and five months after iOS 6 rolled out, the current generation mobile OS is accounting for over 83 percent of all web traffic in North America, says one ad network.
According to fresh data provided by ad network Chitika's analytics arm Chitika Insights, as of February, web impressions from devices running iOS 6 reached 83.1 percent of all iPhones, iPads and iPod touches in North America.
The new numbers represent a huge uptick in iOS device updates since the latest mobile operating system was launched in September of 2012. At the time, it was reported that iOS 6 was on 15 percent of compatible devices in just 24 hours. Follow-up reports noted the adoption rate ballooned to 60 percent after one month.
Breaking down Wednesday's data by device, users of Apple's iPhone are slightly ahead of the overall adoption rate curve, with 84.6 percent of devices running some version of iOS 6. As iOS 6.1.1 mainly affected the iPhone 4S, it's not surprising to see that share is higher than the average.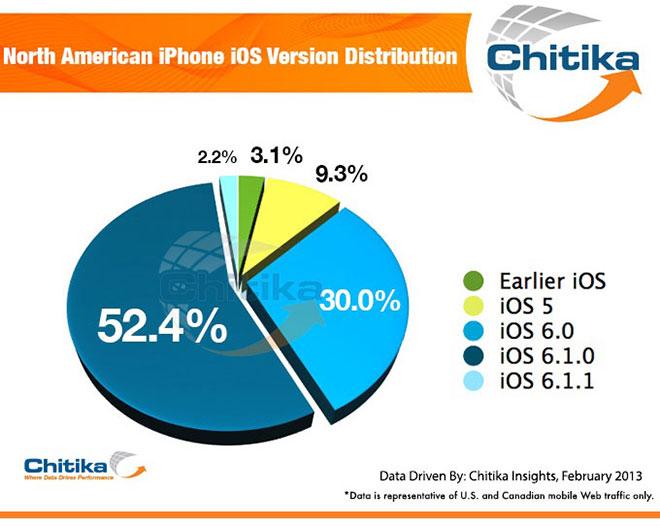 To quantify the study, Chitika Insights sampled 24-hours worth of ad impressions from millions of U.S. and Canadian iPhone, iPad, and iPod touch users observed through Feb. 12.