Apple has raised $65M for RED's fight against AIDS, leads all supporters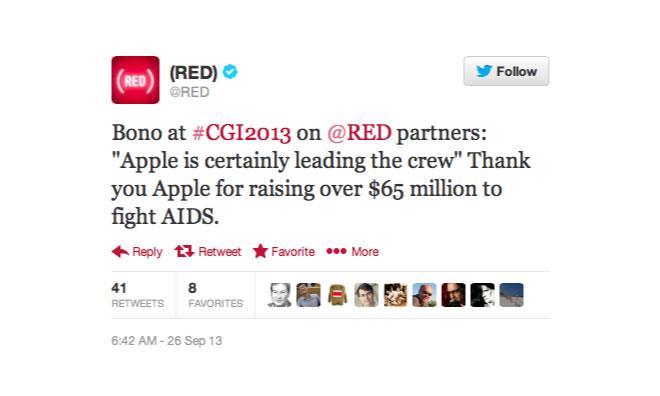 AppleInsider may earn an affiliate commission on purchases made through links on our site.
U2 frontman Bono's Product Red charity took to Twitter to announce that Apple has raised more than $65 million to benefit The Global Fund to fight AIDS, Tuberculosis, and Malaria.
Product Red, a charity created by musical superstar Bono to raise money to benefit The Global Fund to fight AIDS, Tuberculosis, and Malaria, thanked Apple on Thursday for raising more than $65 million for the cause since the iPhone maker's introduction of (Product) RED Special Edition iPods and accessories in 2006. The announcement, first spotted by The Loop, comes in the midst of the Clinton Global Initiative's 2013 annual meeting.
Bono told the assembled crowd that "Apple is certainly leading the crew" when talking about Product Red's corporate partners. Apple donates 50 percent of the profits earned from sales of (Product) RED merchandise to the organization.
Red iPods and accessories are not Apple's only contribution to the charity. Apple Senior Vice President of Design Jony Ive recently teamed up with fellow industrial designer Marc Newson to design several one-of-a-kind products for a benefit auction, including a pair of 18-karat solid rose gold Apple EarPods and a completely custom Leica Digital Rangefinder.