Apple releases iOS 7.0.2 to fix lockscreen passcode bug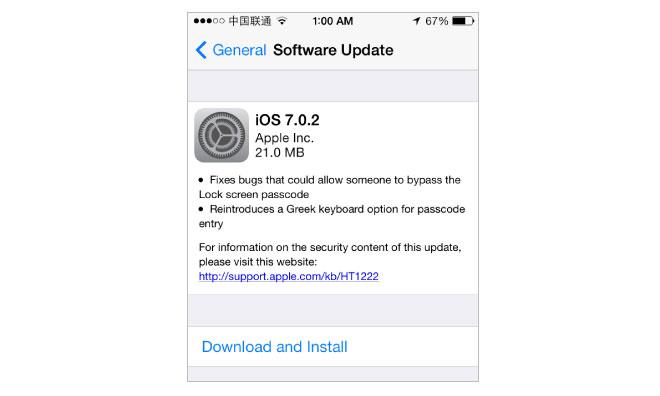 Apple on Thursday released iOS 7.0.2, a security and maintenance update for its mobile operating system that addresses bugs related to secure lockscreen password entry.
The new update fixes bugs that could allow someone to bypass the lockscreen passcode. It also reintroduces a Greek keyboard option for passcode entry, Apple said.
The update arrives less than a week after users discovered a roundabout way to utilize the new Control Center feature to bypass an iOS device's passcode lock. The exploit granted users access to Mail, Photos, Twitter and more.
Prior to Thursday's update, users could defeat the exploit by simply disabling Control Center from the lock screen. With iOS 7.0.2, that security procedure is no longer necessary.
Apple quickly confirmed last week that it had identified the flaw and was working on a fix. The bug affected both iPhone and iPad.
Though it has been available for just over a week, iOS 7 has already seen a pair of small updates to address minor issues. iOS 7.0.1 was made available to iPhone 5s and iPhone 5c owners last week to squash minor bugs found in the newly released hardware.