Apple's iPhone revenue alone bigger than Microsoft, Boeing, Procter & Gamble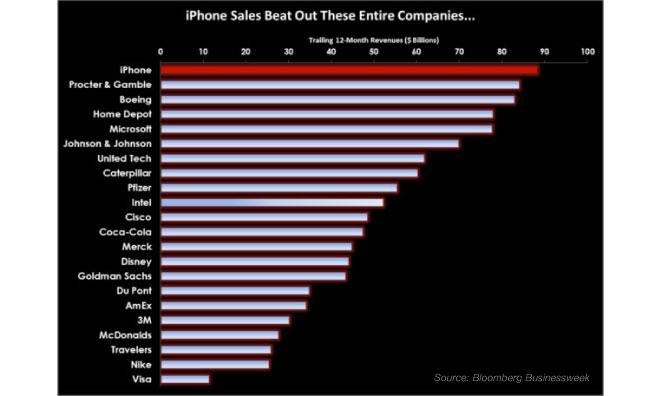 As the iPhone's popularity continues to soar, Apple's mobile handset revenues alone place the business among the largest in the world, exceeding companies like Microsoft, Intel and Coca-Cola.
Apple's iPhone unit would be the ninth largest company by revenue in the Dow Jones Industrial Average if it were a component of the famous market index, according to data collated by Businessweek. Cupertino's handset business raked in more revenue over the preceding 12-month period than mutual fund mainstays Microsoft, Boeing, and Procter & Gamble, among others.
Today — just shy of seven years after its introduction — the iPhone unit's $88.4 billion in annualized revenues not only dwarfs those of American corporate icons like Nike and Coca-Cola, but is nearly three times as much as Apple itself recorded for the entirety of the company's 2008 fiscal year, the first full year of the iPhone's availability. The figure also bests the rest of Apple's products, including the Mac, the iPad, and iTunes, combined over the same period, according to the report.
When late Apple CEO Steve Jobs announced the iPhone in 2007, he set the standard for the smartphone's success at capturing one percent of the global mobile phone market. Now, the iPhone commands more than 7 percent of the market while reaping more than 60 percent of the profits.
Apple's new flagship iPhone 5s and mid-range iPhone 5c — which debuted to record sales of 9 million last weekend — may widen the gap between Apple and other perennial blue chip stocks even more. New features, like the innovative Touch ID biometric security system, and expanded distribution with anticipated new carrier partners like China Mobile, the world's largest wireless provider, have many analysts pushing expectations for Apple's future earnings even higher.