Rumor mill again points to Boost Mobile getting Apple's iPhone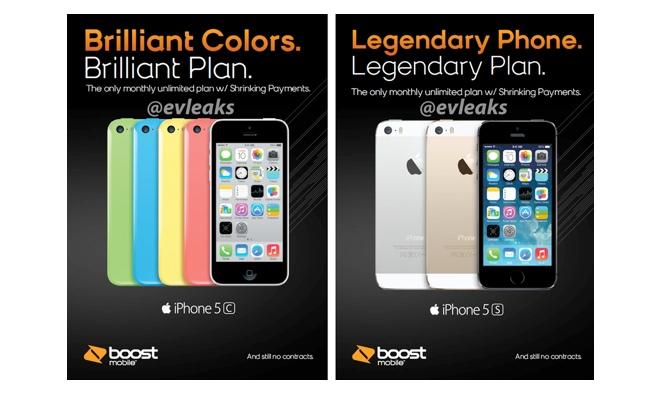 Apple's iPhone 5s and 5c may be on their way to prepaid carrier Boost Mobile, as new images have emerged showing what appear to be promotional materials touting the two smartphones.
Monday brought leaks of supposed new promotional posters for the iPhone 5s and 5c on Boost Mobile, leaked by @evleaks. The materials tout the iPhone 5s as "legendary" and the iPhone 5c's colors as "brilliant" while offering a plan to match both.
According to the posters, Boost Mobile would offer both the 5s and the 5c in its standard no-contract model with the accompanying Shrinking Payments feature, which sees users' bills get smaller the longer they stay with the carrier.
While the promotional materials could be real, @evleaks has in the past been off with Boost Mobile predictions. Earlier this year, the noted leaker claimed that the prepaid carrier would have iPhones for sale in the third quarter of this year. Other sources have also said the iPhone was coming to Boost Mobile in years previous, as well.
Were Boost to get the new iPhones, it would mark a continuation of a trend that has seen Apple expanding its devices' reach to include carriers beyond the four largest in the U.S., and doing so in a rapid fashion.
Whereas previous years have seen the smaller carriers waiting months to get the iPhone, this year Apple's smartphones will launch on regional US carriers less than two weeks after their national counterparts. Prepaid carrier Virgin Mobile has also announced that it will be getting the iPhone 5s and 5c on October 1.