Tests suggest some iPhone 5s motion sensors may be miscalibrated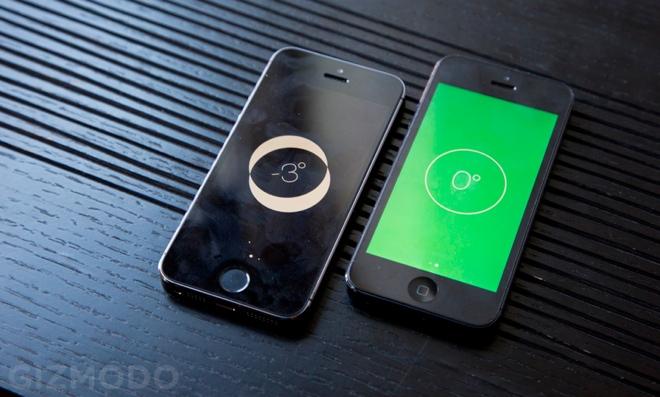 AppleInsider may earn an affiliate commission on purchases made through links on our site.
Apple's iPhone line is known for its build quality and reliability, but a recent examination appears to show that the sensors in at least some models of the iPhone 5s are noticeably miscalibrated.
Developers of many apps have taken advantage of the sensors Apple builds into its bestselling handsets, using the technology for games, measurements, navigation, and more. Now a series of tests conducted by Gizmodo on two separate iPhone 5s units show those units giving inaccurate measures for the device's level, accelerometer, compass, and gyroscope.
The tests compared the iPhone 5s' results against those of the iPhone 5 and a number of dedicated physical measuring tools. In testing the device's leveling calibration, the iPhone 5s' readout was 2-3 degrees off when compared against a Stanley spirit level. Other users reported that the 5s' readout was off by 4-6 degrees. The iPhone 5, though, gave a reading nearly identical to the physical level, indicating that hardware could be the issue.
The gyroscopic function in the iPhone 5s — which relies on the same hardware as the inclinometer — fared little better. The iPhone 5 showed the expected 0-degree readout when set on a level table. The iPhone 5s, however, showed -3 degrees off level.
In additional tests, the compass app on the iPhone 5 showed a more accurate reading for magnetic north when compared against a real compass than it did on the iPhone 5s. The iPhone 5 and 5s were consistently measured at 8-10 degrees apart. The accelerometer on the newer iPhone also reliably registered more latent motion than did the one in the iPhone 5.
Gizmodo notes that its testing is far from conclusive, but that it is in line with what has been seen in other tests of the device's sensors. It is unclear to what extent the flawed readings stem from hardware, but the report expresses confidence that at least some of the problem could be mitigated with a software update. A number of users have reportedly taken their devices back to exchange them, and some of those report that the problem has disappeared.