AT&T does away with per-device data plans for new customers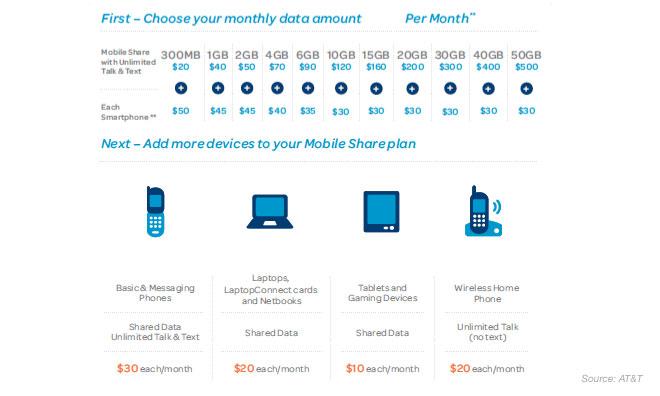 In a nod to the increasing number of consumers who have more than one data-imbibing mobile device, AT&T on Thursday announced that it will no longer offer traditional capped-per-device data plans to new customers, instead steering them toward one of the company's Mobile Share plans.
Rather than choosing individual voice or data plans for each device on a customer's account, Mobile Share offers consumers unlimited voice calling and text messaging alongside a pooled data allowance that applies to up to ten devices. AT&T introduced Mobile Share last year and says that they have quickly become the plan chosen most often by new customers, with more than 13 million connected devices.
Mobile Share plans are offered in 11 tiers ranging from 300 megabytes to 50 gigabytes for between $20 and $500 per month, and each connected device requires a separate monthly fee. Smartphones can be added to the plans for between $30 and $50 per month, while tablets, wireless home phones, laptops, and basic "dumb phones" are an additional $10, $20, $20, and $30 per month, respectively.
The carrier says that "the way customers use their phones and other devices has changed — a lot," and as a result, Mobile Share offers more amenities for the same or better price as discrete plans in 95 percent of new customer cases. The new plans can be a boon for iPhone and iPad owners, who are known to consume significantly more data than other smartphone users.
Existing customers will be grandfathered in and will not be required to change to a Mobile Share plan, even if they upgrade their device. While Mobile Share may shave a small percentage off of a customer's monthly bill, those with years-old unlimited data plans are often reluctant to trade them in for less costly metered plans.