iPhone 5s, 5c to launch on prepaid carrier Cricket Oct. 25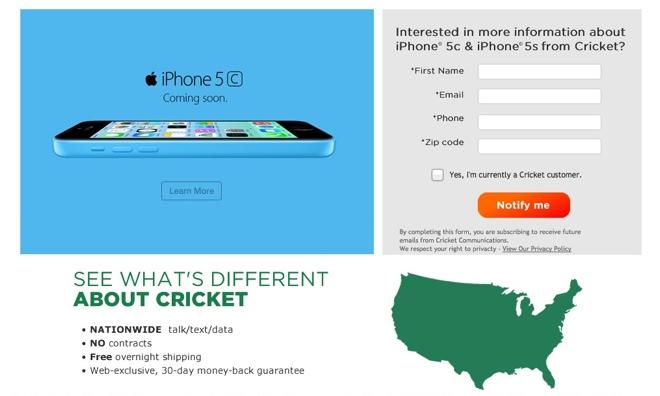 Prepaid wireless carrier Cricket announced on Monday that it will begin carrying both Apple's iPhone 5c and the iPhone 5s on Oct. 25.
The carrier's pre-register page still lists the two devices as "coming soon," but a press release on Monday confirmed Oct. 25 as the date for their arrival on Cricket. Cricket has not yet revealed pricing for the 5s and 5c, but potential customers may be able to get an idea from prices for the current iPhone models. The carrier sells a 16-gigabyte iPhone 5 for $600, a 16-gigabyte iPhone 4S for $500, and an 8-gigabyte iPhone 4 for $400.
Cricket also makes those costs payable in installments. The iPhone 5, for example, is available with a $25 down payment, with the rest of the cost covered in 23 payments of $25. The iPhone 4S and iPhone 4 are available for $21 and $17 down, respectively, with 23 payments remaining until they are paid off.
Cricket is a prepaid subsidiary of Leap Wireless, and it has some 6.2 million customers across the United States. Leap's network features 4G LTE connectivity, but only in select metropolitan areas .