Google Maps for iOS update speeds access to navigation, adds new languages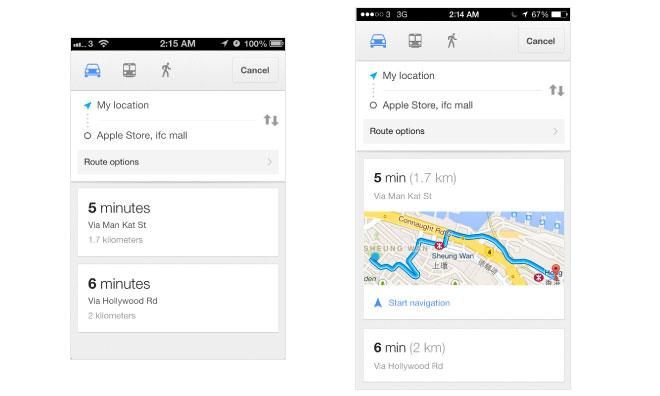 Google on Tuesday pushed an update to their iOS maps application that tweaks the user interface when selecting a route for navigation, adds support for additional languages, and provides a new "Tips and Tricks" help section.
Google Maps's previous route selection screen on an iPhone 4, left, and the updated screen featuring a new "mini map" on an iPhone 5, right
The update adds a useful "mini map" to the route selection screen that displays an overview of the route and current traffic conditions. The smaller, in-line map allows users to quickly compare the suggested routes before entering the full-screen navigation mode, which remains unchanged.
Google also integrated a "Tips and Tricks" help section into the app's sidebar which links to Google's online knowledge base and provides novice Google Maps users with step-by-step directions for actions like searching for locations, customizing their map view, and using Google's turn-by-turn navigation.
The Mountain View company also says in the update's release notes that the new version brings enhanced support for the Arabic and Hebrew languages — Â including voice commands and prompts — Â and "bug fixes."
The popular mapping and navigation app's last binary update brought Google+ integration in August of this year, and a few days later the company began including crowdsourced traffic information from newly-acquired Waze in the app.