Nike announces new iPhone-compatible Fuelband SE fitness tracker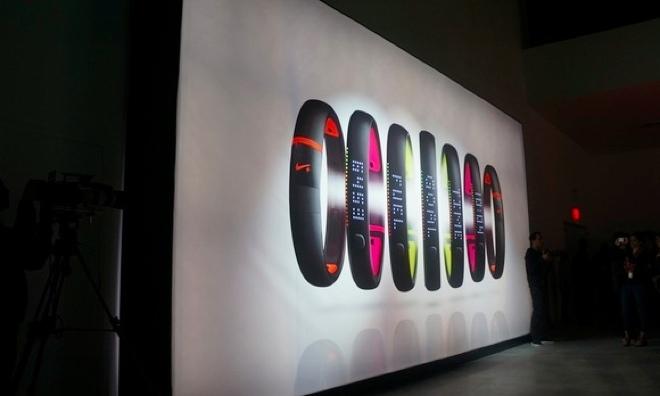 Nike has announced a new version of its wrist-worn iPhone-compatible fitness tracker, the Fuelband SE, adding new color options to its popular device.
The announcement came Tuesday morning at a Nike+ Fuelband event in New York City. The new device comes in an array of colors, adding visual flavor to Nike's fitness tracker. Users will be able to get the Fuelband SE with highlight options of yellow, pink, and red. Reportedly, Nike's goal with the new generation of Fuelband is to "get users to move even more throughout the day."
The new Nike+ FuelBand SE features Bluetooth 4.0 connectivity, allowing it to connect to the Nike+ FuelBand App without using too much power. It is also more water-resistant than its predecessor, and features a redesigned circuit board allowing for greater flexibility. Nike also improved the LEDs on the device, making them brighter and easier to see. Nike has also built in the ability for the FuelBand SE to monitor yoga activity and sleeping habits.
The updated FuelBand also shows off a number of new motivational and organizational features. These include "3.2.1. GO! Sessions," allowing users to track specific physical activities, motivational tools like "Win the Hour," and a new "Fuel Rate" feature that tracks the rate at which a user is earning NikeFuel.
The new Nike+ FuelBand SE will be available beginning November 6 in the United States, Canada, and the United Kingdom, as well as France, Germany, and Japan. It will launch in Black and the Sport Pack colors of Volt, Pink Foil, and Total Crimson. The device will sell for $149.
Nike introduced the original Fuelband in January of 2012, and the device has not seen a hardware upgrade since. Previous speculation on Tuesday's event had already pegged the more responsive LEDs and Bluetooth low-energy connectivity.
The territory Nike has staked out on the wrist is growing increasingly crowded, as tech companies large and small look to grow out the wearable computing segment. Last week saw the introduction of the Fitbit Force, a wristband that combines activity and sleep tracking with wrist-borne notifications over Bluetooth.
Also, Nike may have to compete with a possible iWatch from its partner Apple. That possibility apparently does not trouble Nike, as CEO Mark Parker recently said that the company is well aware of Nike's limitations and ready to partner with others where it makes more sense.
"It's really important to understand what we do well... what we bring to the party, so to speak, and actually amplify that, " Parker said, "and not to expect [us] to really go in and compete with the latest, greatest development of sensor technology."