Apple's multitouch 'Steve Jobs patent' revalidated in full by USPTO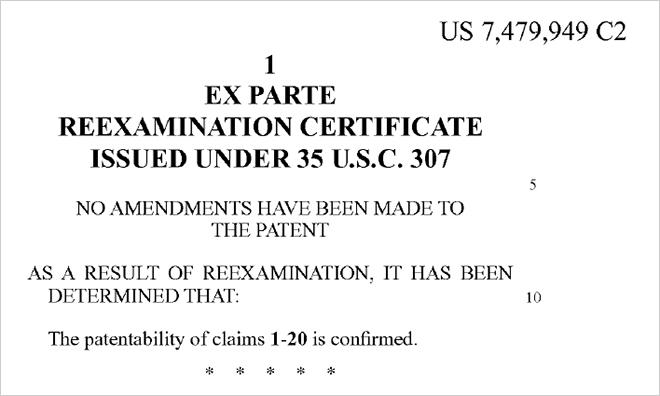 AppleInsider is supported by its audience and may earn commission as an Amazon Associate and affiliate partner on qualifying purchases. These affiliate partnerships do not influence our editorial content.
Some nine months after the U.S. Patent and Trademark Office issued a tentative first Office action invalidating an Apple multitouch patent credited in part to cofounder Steve Jobs, the body has reversed its initial determination to confirm all claims as patentable.
The USPTO's decision wraps up the examination — and subsequent re-examination — of Apple's U.S. Patent No. 7,479,949, which received an ex parté, or anonymous, request to review in December 2012. It is thought that Samsung, Google, or both challenged the patent as part of the companies' ongoing legal struggle against Apple.
Citing a Sept. 4 re-examination certificate, FOSS Patents' Florian Mueller notes the plan to challenge appears to have backfired, as the Steve Jobs patent is now stronger than it was prior to the examination. Apple's in-court efforts should also be bolstered by the confirmation, with Android makers leveraging lawsuits against the company now having to contend with another strong utility patent covering now-commonly used technology.
In particular, Samsung faces an uphill battle after being dealt a significant blow from the U.S. International Trade Commission, which issued an import ban against a number of the company's products after they were found to have infringed on Apple patents. Apple recently filed an appeal to broaden the scope of that case to include currently sold Samsung models, and the now-confirmed patent could add to the company's argument.
The Steve Jobs patent is also being asserted against Motorola in a separate lawsuit.
Titled "Touch screen device, method, and graphical user interface for determining commands by applying heuristics," the '949 patent is a broad, sweeping property covering functional aspects of multitouch screens like those found in many smart devices, like the iPhone and iPad.
In addition to the current cases Apple is fighting against Android device makers, the property was successfully leveraged against Samsung in the Apple v. Samsung jury trial. Among the inventors credited for creating the patent are Jobs, former iOS chief Scott Forstall, Bas Ording and Imran Chaudrhi, among other Apple innovators.