Good: Apple leads business adoption with 72% mobile devices, 90% of tablets, 95% of apps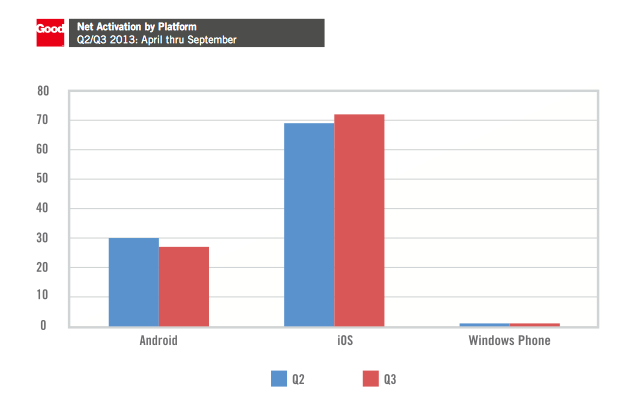 AppleInsider may earn an affiliate commission on purchases made through links on our site.
In its latest report of secure business mobility customers in the enterprise, Good Technology detailed rapid growth occurring in both device activations and custom app development, noting that Apple's iOS is overwhelming dominating both.
Total mobile device activations seen across Q2 and Q3 are up annually by nearly 60 percent within the company's Good Dynamics Secure Mobility Platform, which includes Mobile Device Management and app analytics across over 5,000 organizations in 130 countries.
"From a device standpoint, iOS continues to lead in device activations," the company said, stating that in Q3, Apple reached a 72 percent share of mobile device activations among its customers. That's an increase over Q2, when Good reported 69 percent share for iOS.
Android's share fluctuated downward, from 30 percent in Q2 to 27 percent in Q3, but those numbers are up from just 25 percent in Q1. Good said the change "appears attributable to a major launch of new Android devices by Samsung in that [second] quarter."
Good also noted, conversely, that shifts in numbers "may be due to consumers holding off on iPhone device purchases in anticipation of new models," adding that "it will be compelling to see what Q4 2013 brings now that new [iPhone] models have come to market."
iOS put to work
Apple's ability to maintain its dominant position among business users while rapid growth occurs in mobile deployments stands in stark contrast with Android and iOS ratios in the general market, where Android is claimed to have as high as 80 percent market share by certain metrics.
Those numbers are often based on estimated Android shipments, rather than focusing on the devices that are being selected and retained for actual ongoing use. Among business users, cheap devices that can not actually serve their intended function have substantially less appeal.
At the same time, deployments of iOS devices among business users are not being mandated by companies in the sense that Microsoft's Windows historically was; Good notes that "in a joint recent survey by TechTarget and ZK Research detailing the purchase trends of IT professionals, 65 percent of respondents have a bring-your-own-device (BYOD) policy in place and another 23 percent are in the midst of developing one.""iOS dominates as platform of choice for enterprise app deployment, with 98 percent and 95 percent of total app activations in Q2 and Q3 respectively"
That indicates business and individuals are actually selecting iOS in a meritocracy at the expense of alternatives, rather than being selected by fiat, by deceptive marketing, or primarily on the basis of cheap prices. Good noted that Microsoft's Windows Phone accounted for just 1 percent of device activations, which remains flat year over year.
It's the apps
One explanation for why Apple is maintaining a huge lead among business users' devices (one that's more than twice as large as Android and over 70 times as large as Windows Phone) involves custom application development.
"While Android is gaining enterprise market share on the device side, iOS dominates as platform of choice for enterprise app deployment, with 98 percent and 95 percent of total app activations in Q2 and Q3 respectively," the company reported.
The importance of apps was highlighted in noting that "the rate of growth for secure mobile apps is far greater than the growth rate of mobile device deployments, indicating that enterprises are looking to leverage the investments they've already made in mobile to maximize utilization."
It's the hardware
Another differentiating factor of Apple's success among enterprise users relates to hardware. While Android has been very successful in powering smartphones, it has not been able to stoke strong sales of tablets. That's particularly evident in the enterprise.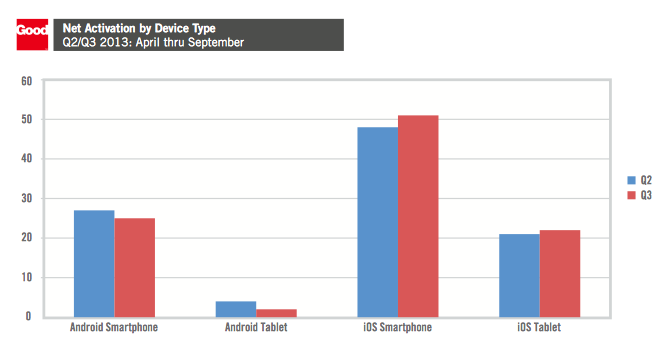 Samsung sells at least twice as many handsets as Apple, but sells far fewer tablets, and its tablets, PCs and netbook earnings combined amount to around a tenth of Apple's.
Samsung has found it so difficult to sell tablets against the iPad that it created a new category of large screen "phablets" in order to sell a tablet like device with a smartphone subsidy, a strategy that has helped it to move larger screens and differentiate itself. However, despite straddling the fence of both Android and Windows, Samsung continues to struggle to sell standalone tablets with either OS."iOS continues to dominate in this area, reporting 90 percent of the total tablet activations"
In the enterprise, tablets are being widely adopted on a scale that is having a deep impact on conventional PC sales. Additionally, the strength of Apple's iOS platform is also bolstering tablets, which are used primarily to run apps, as opposed to phones, which can be functionally used just for making phone calls and checking messages.
While iOS is important for apps on tablets, apps themselves are driving tablet sales (or more accurately, iPad sales). As Good notes, "tablets are more popular for mobile app usage with 81 percent of apps activated this quarter on this form factor."
The feedback loop of apps driving iPad sales is reflected in Good's next finding: "iOS continues to dominate in this area, reporting 90 percent of the total tablet activations in Q3."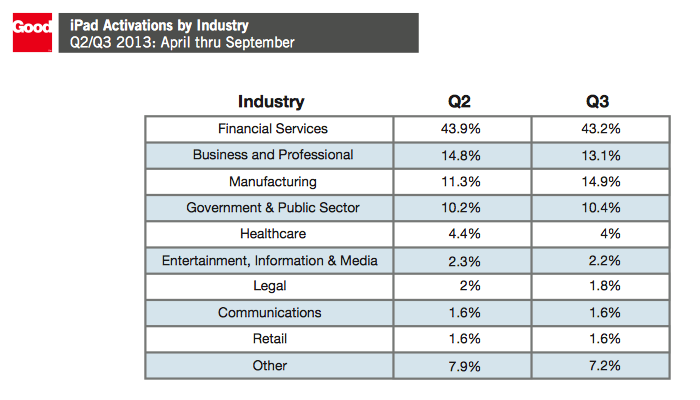 In particular, Good called attention to the Manufacturing segment, which it stated "had tremendous growth quarter over quarter with 32 percent increase in share of iPad activations." The firm tracks tablet use across industry segments, and iPad's overwhelming popularity results in Good simply referring to the enterprise tablet business as essentially an iPad business, as charted above.
It's the iPad
The type of apps business are putting to use also favor iPad. "Of the apps activated on tablets, 91 percent were document editing apps, followed by file access and custom applications," Good noted.
Rather than wanting "consumption devices" oriented around watching movies on a 16:9 screen ration, business users are editing documents, a task the iPad was expressly designed to do with its page sized screen with display ratio closer to a standard PC than a movie screen. Virtually all Android tablets have an HTDV display ratio and serve up stretched smartphone apps, while business editing software gets little attention.
Microsoft's Surface debuted last year with the same type of 16:9 HDTV screen, making it awkward to use in portrait mode as a tablet. This put it into direct competition with notebooks, which are much better at actually being notebooks, offering real keyboards and more processing power.
Microsoft's Surface lead designer Panos Panay only recently stated, "we have a lot of great things that we are thinking about and working on, and there are multiple aspect ratios and sizes and awesome things to come from Surface."
Next Tuesday, Apple is expected release its next crop of iPads, building upon its virtually uncontested showing among business users as the tablet of choice.