Apple begins airing TV spot for gold iPhone 5s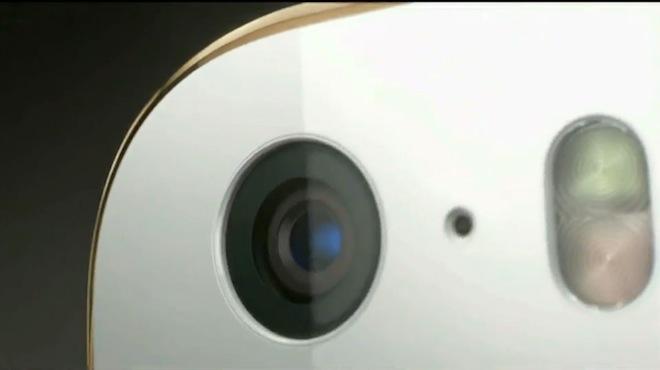 Apple has recut the "liquid gold" video it debuted at the launch of iPhone 5s and paired it with a golden dance track to deliver the first television ad for the new high end model.
Similar to the flow of the "plastic perfected" TV ad Apple launched last month for iPhone 5c, the new 5s spot depicts a phone materializing out of a liquid material.
For the iPhone 5s, that material is gold, portrayed from the start in a melting form that takes the shape of the device. The spot pauses to admire the camera and dual element True Tone flash (above) before being outfitted with a gold ring highlighting its Touch ID feature, which is immediately used by a finger to login to the newly formed device.
The spot, first noted by The Verge as appearing in U.S. football broadcasts on Fox, and cobranded by carrier Verizon, is a slightly shorter version of the original video Apple showed at its release.
The TV spot is also paired with music from English glam rock band Goldfrapp: "Ohh La La," a disco inspired track that topped the charts in 2005, with punching bass guitar over a sultry synth, reinforcing the flow of the liquid gold. It also cleverly ties in the lyrics "dial up my number" and coordinates "I want to touch you, you're just made for love" with Touch ID, panning out to show the device running iOS 7.
Apple's original spot lacked a similar soundtrack, instead presenting a creepier, orchestral accompaniment to the cracking sounds of molten metal. The video also presented the internals of the Home button and its Touch ID sensor in greater detail, and flipped the phone around to present it alongside the Silver and Space Grey versions.
Liquids and Goldfrapp have been used in ads before
Apple's new "liquid" ads are reminiscent of an LG ad for its "Chocolate" phone, which presented the device erupting out of liquid chocolate. LG's 2006-era U.S. Chocolate phone was intentionally styled after Apple's iPod and played up its ability to play music.
That ad, coincidentally, featured a different track "Strict Machine" from the same artist, Goldfrapp. Motorola later copied LG's flip version of the Chocolate to launch the Moto CRZR, and also used Goldfrapp's "Ohh La La" to promote its ability to play music, although it failed to highlight the lyrics of the song, instead just presenting its catchy beat and chorus.
Both companies were hit hard by the launch of the iPhone, which not only played music like an iPod, but also surfed the web and accessed email like a Macintosh.