Apple to stream today's iPad special event live online [u]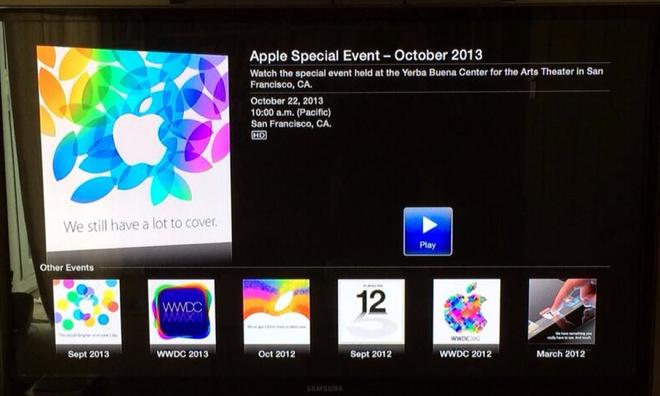 An Apple Special Event channel appeared on users' Apple TV set-top boxes on Tuesday as well as the company's website, indicating that the company plans to offer a live stream of the day's keynote, where it is expected to unveil new iPads and other products.
The Apple Special Event channel is now available on Apple TV. Picture via Ben Dodson.
"Watch the special event held at the Yerba Buena Center for the Arts Theater in San Francisco, CA," the event listing reads, noting that the presentation will kick off at 10 a.m. Pacific.
Updated: Users can access the live feed by choosing the "Apple Events" channel on the Apple TV home screen. The stream is also available on a Mac via Apple's official Events website.
Apple has streamed other events in the past, but opted not to offer a live feed of September's iPhone unveiling.
AppleInsider will also be onhand at today's event, providing full, live coverage of the proceedings, including hands-on impressions and pictures with any devices made available. Expected to be unveiled are a new second-generation iPad mini with Retina display, a redesigned fifth-generation iPad, details on the release date for OS X Mavericks, and new Macs.