Apple Stores to open at 8 a.m. on Nov. 1 for iPad Air launch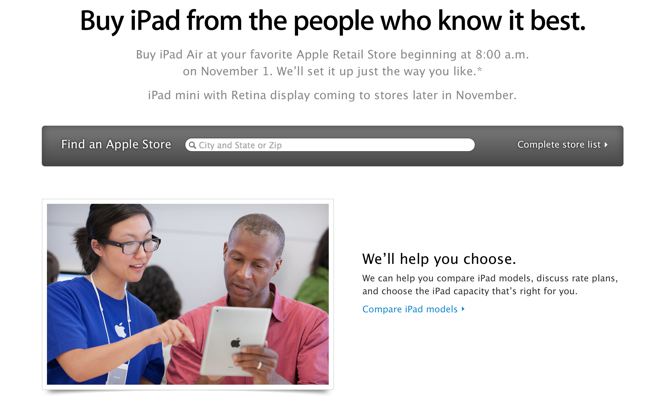 Apple's retail stores will open their doors early next Friday, Nov. 1, to offer customers the chance to be among the first to own the new lightweight iPad Air.
The company's latest-full-size tablet will be available at 8 a.m. local time on Nov. 1, Apple has announced on its website. That's an hour earlier than the company's retail locations usually open.
It's not a new move for the company, as Apple has done 8 a.m. early openings for other product launches, most recently the iPhone 5s and iPhone 5c in September.
If history is any indication, preorders for the iPad Air will begin on Apple's online store at 12:01 a.m. Pacific on Friday, Nov. 1.
Like with the iPhone 5s, Apple is not taking advance online preorders for the iPad Air. That's a change from years past, when users could have the latest iPad model mailed to their home on launch day.
Not launching next Friday is the new iPad mini with Retina display, which Apple has promised will arrive later in November. It's expected to be in short supply this holiday season, with rumors suggesting Apple faces yield issues with the new high-resolution display on its 7.9-inch tablet.