SoftBank shows massive income growth behind demand for Apple's iPhone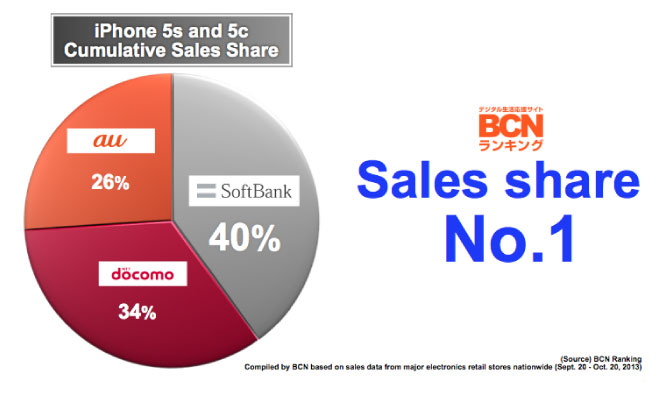 Japanese telecommunications company SoftBank on Thursday reported a robust 29 percent year-over-year jump in net income for its mobile division, which the carrier attributes primarily to sales of Apple's iPhone.
SoftBank appears to be the main beneficiary of the iPhone's popularity in Japan, capturing 40 percent of the market for Apple's new flagship iPhone 5s and mid-range iPhone 5c, according to their quarter-ending financial statement. Revenue from the wireless segment totaled ¥996 billion Japanese yen for the first half of 2013.
The carrier has led all Japanese wireless providers in subscriber additions for 57 of the 62 months since it began selling the iPhone in 2008, the report said, adding nearly 2 million subscribers in the first half of fiscal year 2013 alone. Rival KDDI's au unit added 1.34 million in the same period, while NTT DoCoMo lagged behind with just 240,000 additions.
SoftBank's recent meteoric rise has come at great expense to its chief rivals, though DoCoMo has been by far the hardest hit, gaining access to the iPhone two years after KDDI and five years after SoftBank. DoCoMo reported the worst monthly subscriber loss in its history last month, with more than 66,000 customers abandoning the carrier after DoCoMo's launch supply of the iPhone 5s and 5c ran out.
Apple's iPhone owns more than 30 percent of the Japanese smartphone market, and analysts expect its share could climb even higher with the recent addition of NTT DoCoMo as a partner.
The handset's "share could reach half of (all) smartphones" with DoCoMo coming on board, Gartner research analyst Atsuro Sato recently told Reuters.