Apple, Samsung lengthen US smartphone marketshare lead in Q3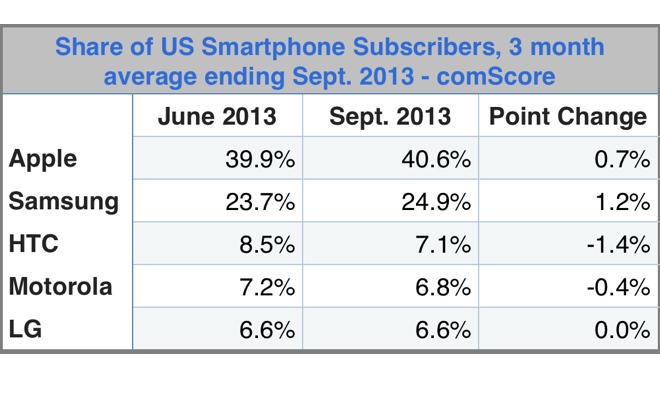 The latest smartphone statistics from research firm comScore were published today, revealing Apple and Samsung to be the only two top-five manufacturers to show growth in the U.S. market.
According to the firm's MobiLens survey, Apple's iPhone built on its lead by taking 40.6 percent of all smartphone subscribers in the U.S. for the three month period ending in September. The performance is a sequential 0.7 point change from the June quarter's 39.9 percent share.
Rival handset maker Samsung also grew its user base over quarter three, jumping from 23.7 percent at the end of June to 24.9 percent in September, a change of 1.2 points. Third and fourth place HTC and Motorola saw negative growth of 1.4 percent and 0.4 percent, respectively, while fifth place LG held steady at 6 percent.
As for operating system share, Google's Android continued to lead as the number one platform in the U.S., with a 51.8 percent market share. The change is down 0.2 points quarter-to-quarter. Apple's iOS, meanwhile, retained the second place spot and gained users over the same period, as did Microsoft's Windows Phone. Apple saw a 0.7 point bump in users, while fourth place Microsoft gained 0.2 points.
Beleaguered Blackberry continued to lose marketshare and ended September with 3.8 percent of the market, down 0.6 percent sequentially. Defunct mobile platform Symbian held on the fifth place with a 0.3 percent share, unchanged from June.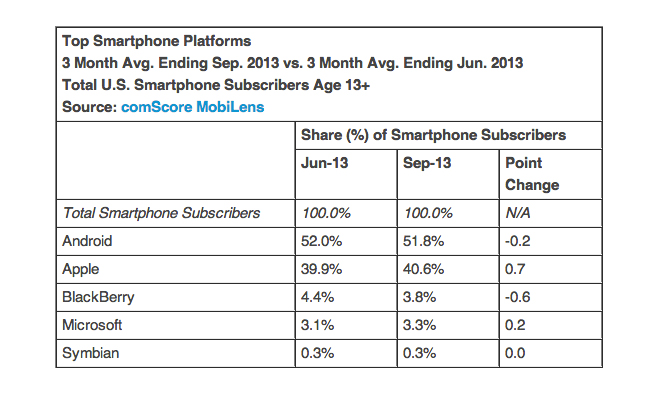 Overall, comScore found 147.9 million people in the U.S. owned smartphones during the September quarter, good for a mobile market penetration of 62 percent, up 4.5 percent since June.
A few other interesting data points were offered as well. The firm ranked the top 15 mobile app properties for smartphones, finding Google sites ranked at the top with an astounding reach to 90 percent of the nation's mobile media audience. Facebook followed with 84 percent, Yahoo! apps and browsing at 82.2 percent, while Amazon came in with 65.5 percent. Top apps included Facebook, Google Play, Google search and YouTube.
Of note, the Pandora Internet radio app broke into the top five for the first time ever, reaching 49.3 percent of the market. Apple's first-party app suite ranked seventh with 44.2 percent reach, while the company's servers reached 50.8 percent of the app and web browsing audience for a fifth place finish. Cupertino's Maps app netted a 25.6 percent reach in the smartphone app audience, compared to Google Maps' 43 percent.