Apple simplifies bulk book and app deployment with new 'managed distribution' program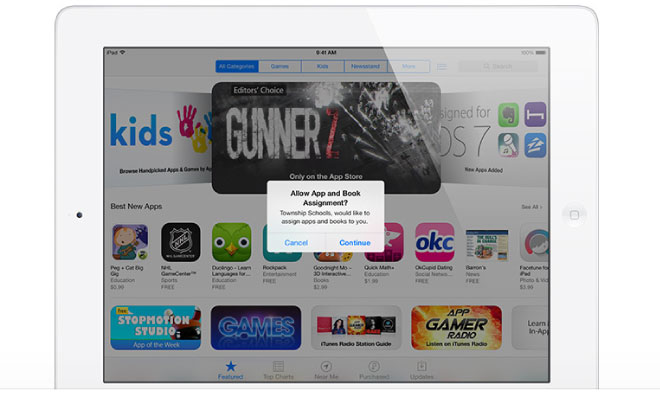 AppleInsider is supported by its audience and may earn commission as an Amazon Associate and affiliate partner on qualifying purchases. These affiliate partnerships do not influence our editorial content.
Apple has replaced the unwieldy process of distributing hundreds or thousands of individual redemption codes with a new, streamlined method that allows administrators to remotely "assign" apps and textbooks to students or teachers.
The new "managed distribution" program was announced in early October and officially rolled out on Tuesday with an update to Apple's volume purchase portal, the website used by schools and businesses to purchase and manage apps in bulk. The updates were first noticed by Enterprise iOS.
The program works with free and paid apps from both the iOS and Mac App Stores, as well as books from the iBookstore.
When a book or app is assigned to a device, it can be automatically downloaded and installed, or a push notification can prompt the user to install the item. Removal can also be done automatically when the assignment is revoked, and the license is immediately available to be moved to a different device.
Apple says the program is available in Australia, Canada, France, Germany, Italy, Japan, New Zealand, Spain, the U.K., and the U.S. Institutions will need a compatible mobile device management service, like OS X Server's Profile Manager, to participate.
Although the iPad enjoys a near monopoly in the education market, managing large numbers of the popular tablets has long been a headache for administrators. Apple's remote management solutions for iOS have shown steady improvement, but are only now beginning to fill out with features comparable to those enterprise administrators are accustomed to.
Businesses who subscribe to the Volume Purchase Program can also take advantage of the new management features. For those users, the program adds compatibility with private, in-house apps distributed via the App Store.